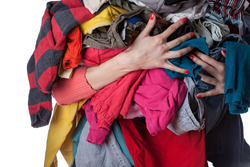 Elkridge, Maryland (PRWEB) July 11, 2016
Planet Aid today asked Americans to participate in this year's National Give Something Away Day on July 15th by donating used or unwanted clothing, textiles, and shoes.
The main purpose of the holiday is to remind people of the joys of giving. It is a day to pay it forward and do something nice for someone, whether it is someone you know or a stranger. "Go through your closet and donate clothing you no longer wear to a good cause," says the NGSAD website.
Planet Aid collects donated items and sells them. The proceeds from the sales help support educational, vocational, and agricultural programs and stimulate local economies in developing countries around the globe, bettering the communities through sustainable development.
"We live in a culture of materialism, and National Give Something Away Day reminds us that giving can be very satisfying," says Planet Aid President Ester Neltrup. "I hope that when people celebrate National Give Something Away Day, they consider helping others. That being said, it is important to give any day of the year, and Planet Aid accepts donations year-round, making it very easy to support programs to help the world's poorest people."
About Planet Aid
Planet Aid is a U.S. 501 (c)(3) nonprofit and is registered with USAID as a private voluntary organization. Accredited by the Better Business Bureau's Wise Giving Alliance, Planet Aid collects and recycles used clothing and shoes as part of its environmental mission. The net proceeds from its 21-state recycling operation help to support projects aimed at eliminating poverty. Since its inception in 1997, Planet Aid has provided more than $100 million to support projects on three continents. Planet Aid supports programs in education, teacher training, nutrition and agricultural and economic development.