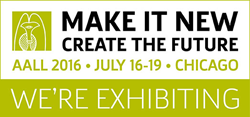 Chicago, Illinois (PRWEB) July 11, 2016
ktMINE, a Chicago-based innovation and intellectual property information services firm, announced today that they will be a first-time exhibitor at the 2016 American Association of Law Libraries (AALL) Annual Meeting & Conference, taking place from July 16-19, 2016, in Chicago, Illinois. This will be the 109th conference and is the premier educational and networking event for legal information professionals.
ktMINE's Cash McNeel, Business Development Manager, John Wiora, Director of Operations, Tessa Culbertson, Business Development Consultant, and Laura Sorg, Marketing Manager, will be representing ktMINE at booth 332. As a first-time exhibitor, they will be showcasing ktMINE's Search App, the only all in one search of intellectual property (IP), along with Company IP Reports that provide instant access to a corporation's IP portfolio and transaction history. With advanced search building, precise filters, and quick analytics, ktMINE's tools significantly expedite the research process of IP across law firms. ktMINE helps IP Lawyers, M&A Lawyers, and Research Libraries advise their clients and execute their project tasks. ktMINE will be hosting a raffle for those that visit their booth to win a $100 Amazon gift card.
AALL Annual Meeting & Conference is the industry's only focused event for professionals involved in law library management, acquisitions, and services. Law librarians from across the country will gather to learn about the latest issues, tactics, technologies, services, and products impacting their profession. Topic areas that will be covered include Enhancing Access to Justice Through Incubators, Leadership at Any Level, The Impact of New Collaboration Tools on the Legal Industry, Best Practices for Providing Quality Deliverables, and many more. The conference will include specially curated programs, Innovation Labs, that will take big ideas and mine them for practical, real-world application.
About ktMINE
ktMINE, headquartered in Chicago, IL, is an innovation and intangible assets information firm founded in 2008. Focused on mining, organizing and connecting the world's IP information, ktMINE provides businesses across the globe access to insights on industry players, technologies, and developments. For more information visit http://www.ktmine.com, or contact ktMINE to schedule a meeting.