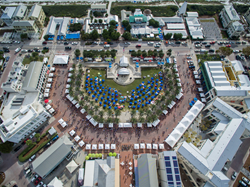 SEASIDE®, Fla. (PRWEB) July 12, 2016
This fall, wine enthusiasts can see red, white, and rosé in the beautiful, award-winning town of Seaside, Fla. The Seeing Red Wine Festival will be celebrating 26 years from Nov. 4-6, 2016. Produced in partnership with the Destin Charity Wine Auction Foundation (DCWAF), the town of Seaside presents the highly-anticipated, four-day event featuring some of the world's premier vintners, proprietors, and beloved local chefs. Attendees can walk around Central Square while sipping on delectable wines in the iconic beach town located along Northwest Florida's Hwy. 30A.
The Seeing Red Wine Festival has evolved into a sell-out event, attracting wine connoisseurs and novices alike. The festival has been recognized as one of the "Top 10 Can't-Miss Fall Wine Festivals," by Fodor's Travel and has enjoyed the outstanding support of Coastal Living as a sponsor. Attendees are encouraged to reserve their tickets well in advance.
"We are absolutely honored to partner with Seaside to produce this long-standing event," said John Russell, president of DCWAF. "Many of these vintners have become our friends as we have been fundraising for children in need in Northwest Florida for 11 years. Building on the festival's long-standing history coupled with the reputation of DCWAF, we've been able to include exclusive wines and rare varietals."
The four days of festivities include reserve wine tastings, dinners and a brunch with featured guest winemakers. Several of Seaside's well-known restaurants showcase their farm-to-fork and Gulf-to-table offerings, which pair beautifully with the featured wines.
The festivities kick off Thurs., Nov. 3, at 7 p.m. with the Vintner's Dinner at the famed Bud & Alley's restaurant. Executive Chef David Bishop will create a special menu in collaboration with a featured vintner. A limited number of reservations are available, and reservations can be made by calling the restaurant.
On Fri., Nov. 4, the Al Fresco Reserve Tasting, from 6 to 8 p.m., is an elegant evening showcasing an incredible selection of library wines, featuring vintages that have been cellared to be uncorked at just the right time. An array of hors d'oeuvres will pair perfectly with the featured wines, in addition to Southern Artisan Chocolates™ made by Olive and Sinclair Co. The evening is complemented by live music under twinkling lights on Seaside's Lyceum Lawn. Early pricing for the Al Fresco Reserve Tasting is $225 until Oct. 1, at which time the price per ticket will be $250. A limited number of tickets are available.
The Grand Tasting, from 1 to 4 p.m., on Sat., Nov. 5, is the main event and features more than 250 wines for tasting. Guests will spend the afternoon strolling through Seaside's Central Square sipping an extensive array of highly sought after wines from around the world, while enjoying live music, light bites from South Walton's leading local restaurants, and the opportunity to purchase wine on-site. Early pricing for the Grand Tasting is $160 until Oct. 1. After Oct. 1, general admission tickets will be $175.
VIP Grand Tasting ticket holders will receive early admission to the Grand Tasting at 12:30 p.m. for the first taste of the day as well as access to the VIP lounge at 12 p.m., which is furnished with local fare, exclusive library wines and libations. The VIP lounge will also feature a "meet and greet" with wine celebrities personally signing bottles of their premium wines featured at the festival. In addition, VIP check-in attendees will receive a Seeing Red Wine Festival cooler bag with festival merchandise. Early pricing for VIP tickets is $300 until Oct. 1. The price of VIP tickets will be $325 after Oct. 1.
On Sun., Nov. 6, the weekend wraps up with a Celebration of Bubbles, from 10 a.m. – 1 p.m., at Great Southern Café in Seaside, followed by the Charity Wine Auction & Walkabout, from 2 – 5 p.m. in Seaside on Lyceum Lawn.
The Celebration of Bubbles features sparkling wines, including Champagne, Cava, and Prosecco, among others, which will be complemented by delectable brunch items. Live music and new friends make for a fun, festival morning on the coast. To reserve your spot, call Great Southern after Oct. 1.
From 2-5 p.m., the Fall Walkabout & Charity Auction will feature wines, food stations, live music and our famous "Hangover Station" with Bloody Marys and mimosas. The event is enhanced by a silent auction, featuring items such as rare wines, exclusive dinners, vacation packages, and artwork. Early pricing is $100 until Oct. 1. This is a truly a local's favorite.
"Now in its 26th year, the Seeing Red Wine Fest has a proven track record for providing the utmost in quality wines within the beautiful landscape of Seaside's intimacy and charm, and we're not expecting anything less than a sold-out event this year," said Lori Leath Smith, Seaside Community Development Corp. public relations and marketing director. "Seaside continues its pursuit of providing a unique, one-of-a-kind experience for wine aficionados, or novices, or those who simply want to sip, socialize and stroll while enjoying the comforting throwback to simpler times. Though the wine varieties, the people and the offerings vary with each passing year, the Seeing Red Wine Fest's spirit and its drive to stand apart persists."
Proceeds from the Seeing Red Wine Festival will be presented to the Destin Charity Wine Auction Foundation, which supports 14 local non-profits, serving children in need in Northwest Florida. The DCWAF's signature event, the Destin Charity Wine Auction, is held annually the last weekend of April at Grand Boulevard at Sandestin. In 2016, the auction raised $2.65 million for children in need and has been ranked among the top 10 charity wine auctions in the country by Wine Spectator for the last four consecutive years.
Presenting sponsors for the 26th Annual Seeing Red Wine Festival include Coastal Living, The Merchants of Seaside, The Seaside Style, and 45 Central Wine Bar in Seaside.
To learn more or to purchase tickets to the 26th Annual Seeing Red Wine Festival, visit http://www.SeeingRedWineFestival.com. Free parking and shuttle service will be provided from the Publix at WaterColor Crossings on County Road 395.
Special lodging packages are also available at SeeingRedWineFestival.com. For information about Seaside, visit http://www.seasidefl.com. For information about the Destin Charity Wine Auction Foundation, visit dcwaf.org.
###
About SEASIDE®
Seaside, built on 80 acres on Florida's Gulf Coast, is located on South Walton County's Hwy. 30-A, on Northwest Florida's Gulf Coast. Acclaimed world-wide as one of the iconic examples of New Urbanism, Seaside offers a thriving town center with shopping and dining, all within walkable distance to homes, cottages and offices. Consisting of more than 475 cottages, many of them vacation rentals, the community offers nearly 20 restaurants, bars and eateries, and more than 40 shops, galleries and services.
Seaside is currently being featured on the Cooking Channel's Emeril's Florida, on PBS "10 Towns that Changed America," was just named as one of Trip Advisor's "15 Rising Vacation Rental Destinations for 2016," was the Travel Channel's "2015 Best Family Beach," was recently named the "Best Beach on Earth" for families (2014) by Travel + Leisure magazine and included in USA Today's "Top 10 Best Beach Towns in Florida (2013) by "Dr. Beach." The holiday town was also the primary filming location of the classic movie "The Truman Show."
Seaside is a prominent topic in architectural schools and in housing-industry magazines, is visited by design professionals from throughout the United States, and is included in the American Institute of Architects (Florida chapter) list of Florida Architecture: 100 Years 100 Places.
For more information, visit http://www.seasidefl.com or email lsmith@seasidefl.com.
Destin Charity Wine Auction Foundation's mission is to connect wine enthusiasts to raise money to benefit children in need in Northwest Florida.
Founded in 2005, Destin Charity Wine Auction Foundation has donated more than $13 million to Northwest Florida charities through hosting world class wine and culinary events. These funds have impacted the lives of more than 75,000 youth, including those afflicted by health issues and abuse. DCWAF is recognized as one of the nation's 'Top 10 Charity Wine Auction in the U.S.' by Wine Spectator magazine for the last four consecutive years.
The funds raised are distributed to 14 local non-profit organizations for specific projects and programs that benefit children. Charity partners include Children in Crisis, Children's Volunteer Health Network, Emerald Coast Autism Center, the Emerald Coast Children's Advocacy Center, Food for Thought, Habitat for Humanity of Walton County, The Arc of the Emerald Coast, Homelessness & Housing Alliance, Pathways for Change, Sacred Heart Hospital on the Emerald Coast, Shelter House of Northwest Florida, AMIKids, Boys and Girls Clubs of the Emerald Coast, and Youth Village.
DCWAF Media Contact: Jordan Lacenski, 850-650-3732, jordan(at)dcwaf(dot)org
SEASIDE Media Contact: Lori Leath Smith, 850/714-3166, lsmith(at)seasidefl(dot)com