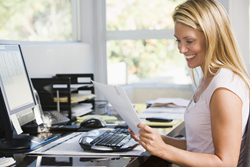 The release of these three solutions solidifies our status as the industry leader in automotive dealer soft pull credit products
Davenport, Iowa (PRWEB) July 13, 2016
Dealer Marketing Services, Inc. the makers of ProMax Unlimited, today announced the release of Instant Auto Credit App, an Equifax©-powered version of the popular online soft pull solution. ProMax offers a full front-end software suite to automotive dealers and boasts an unparalleled track record of innovative and award-winning credit solutions. The Instant Auto Credit App product is the third in an exciting line of three consumer credit soft pull products that have been released in the last year all powered by PowerLead© suite of services from Equifax. The three products can be deployed by automotive dealers individually or as an entire product suite.
The Instant Auto Credit App allows visitors to a dealership's website to pre-qualify for an auto loan. Consumers who wish to be pre-qualified are required to fill out a short application and verify their identity, in exchange for an offer that includes a maximum loan amount and a range of possible interest rates. The dealership in turn can receive a pre-qualified lead.
"Leads are the lifeblood of the auto business," said ProMax COO Shane Born. "This powerful soft pull tool goes a long way toward converting anonymous website visitors into auto sales and can be used for customers already at the dealership, showroom walk-ins and service lane customers."
"Our dealership customers highly value prospects that are sourced from their own websites and service lanes," said ProMax CEO John Palmer. "The PowerLead service from Equifax enables us to help validate consumer identities and performs a soft pull of a customer's credit file to assess customers quickly and easily. This is why we are so excited to offer our dealerships the valuable services of each of these three products."
Instant Score, which was the first of the three Equifax-powered credit solutions to be released, functions as a simple plug-in to any page on a dealership's website. Using Instant Score, visitors to a dealership's website are able to see their Equifax credit score free of charge. This simple process only requires consumers to fill out a short form and verify their identity, but does not require some personally identifiable information, such as a social security number. Upon completing the form and having their identity verified, the consumer may view their credit score, and the dealership receives a high quality authenticated lead.
"The release of these three solutions solidifies our status as the industry leader in automotive dealer soft pull credit products," said ProMax CTO Darian Miller. "No one else boasts as wide a variety of automotive pre-screen tools."
ABOUT PROMAX UNLIMITED
Dealer Marketing Services, Inc. was formed in 1994 by John Palmer. In August of 1995, ProMax was introduced as a Special Finance software solution. In 1998, the software was expanded to handle all types of desking including new and used vehicle leasing, CRM, finance menus, inventory management, reports, and credit application submissions to lenders. In 2002, ProMax was introduced as the industry's first Internet-based full front end solution and today is used by over 2,000 automotive dealerships. The ProMax Unlimited internet application integrates with dealership DMS systems and can be used effectively in large dealer group situations as well as single location dealerships. Dealer Marketing Services, Inc. also provides credit bureaus, website development and hosting, internet leads, and direct mail services to help dealerships increase traffic. Learn more about ProMax Unlimited and Dealer Marketing Services, Inc. at http://www.ProMaxUnlimited.com.
ABOUT EQUIFAX
Equifax powers the financial future of individuals and organizations around the world. Using the combined strength of unique trusted data, technology and innovative analytics, Equifax has grown from a consumer credit company into a leading provider of insights and knowledge that helps its customers make informed decisions. The company organizes, assimilates and analyzes data on more than 800 million consumers and more than 88 million businesses worldwide, and its databases include employee data contributed from more than 5,000 employers.
Headquartered in Atlanta, Ga., Equifax operates or has investments in 24 countries in North America, Central and South America, Europe and the Asia Pacific region. It is a member of Standard & Poor's (S&P) 500® Index, and its common stock is traded on the New York Stock Exchange (NYSE) under the symbol EFX. Equifax employs approximately 9,200 employees worldwide.
Some noteworthy achievements for the company include: Ranked 13 on the American Banker FinTech Forward list (2015); named a Top Technology Provider on the FinTech 100 list (2004-2015); named an InformationWeek Elite 100 Winner (2014-2015); named a Top Workplace by Atlanta Journal Constitution (2013-2015); named one of Fortune's World's Most Admired Companies (2011-2015); named one of Forbes' World's 100 Most Innovative Companies (2015). For more information, visit http://www.equifax.com.