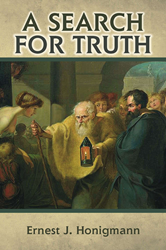 [This book] made my life and the world I live in understandable [...] I hope it will do the same for my readers.
St. Louis, MO (PRWEB) August 12, 2016
Encouraged by the recent coming out of atheist authors—after a 50-year delay due to publishers' fears of societal taboos—his book has now been published as a detailed account of his work including his discovery that the arguments favoring belief in God don't hold up under close inspection, but also that the loss of God requires new concepts for the meaning of life, the basis of morality, and justification of our sovereignty as a nation. This book includes the author's solutions for those problems.
Similar to beliefs of erudite atheist authors Richard Dawkins, Sam Harris, Christopher Hitchens, and Daniel C. Dennett, but proffered in layman's language, A Search for Truth disproves the existence of God with unrelenting applications of logic supported by quotations from reliable media such as Time, Life, and Christian Century, and from authoritative sources such as psychologist Erich Fromm, pollster George Gallop, sociologist Will Herberg, and author Jean Danielou, S. J. Thus, such religious staples as the "proofs" of the existence of God, the "miraculous" cures at Lourdes, and the argument from "universal assent" are left so broken as to be obsolete. Even the mystics' "faith with certainty" comes apart under the author's persistent questioning.
Further, the author found that truth should always be held provisionally, not permanently, pending discovery of new evidence and insights. His atheism, for example, is provisional.
Honigmann began his book as a result of his rejection from a loving courtship because he did not believe in the existence of God. The basic idea of his search for truth was to discover once and for all whether the reasons people believe in God would hold up under his meticulous testing. For him, it was a win-win situation. No matter what his search for truth might discover, it would remove the nagging doubts as to whether or not God really exists. Either way, he would be all the better for it.
Although A Search for Truth, until now, was never published, the author has always considered having written it as one of the best things he ever did for himself. "It made my life and the world I live in understandable," he says, "and it made the pain easier to endure." To which he adds, "I hope it will do the same for my readers."
A number of passages in the book give the author a special satisfaction. For example, one of the cures of cancer at Lourdes had been officially declared a miracle without having been verified with a biopsy. When the chief investigator of the American Medical Association informed the author that they would not enter the "twilight zone" between medicine and religion, the author went to the American Cancer Society. They replied that no case suspected of being cancer that has not been diagnosed with a biopsy would ever be entered into their cancer registry. They said it was probably not cancer.
Honigmann has two chapters that are his favorites. Both go beyond the purview of the book. In one, he derives a rigorous definition of truth: "Truth is, in general, conformity to that which may be reasonably asserted" (Ch.1). Yet, he points out, despite the rigorous development of this definition, it allows almost anybody with a "reasonable" assertion to insist that their religious truth is truer than anyone else's. No wonder we have so many wars.
In his other favorite chapter, he suggests that the Department of Health and Human Services set up a Department of Religious Information staffed by nine top-level minds from a variety of fields to study, then vote on which religious truths are true and which are not. Honigmann then tries to anticipate as many objections as he can—unconstitutional, socialistic, bureaucratic, fascist, etc.—then shows that these objections don't hold water (Ch. 12).
A Search for Truth is available as an ebook from the following retailers:
Kobo: https://store.kobobooks.com/en-us/ebook/a-search-for-truth-1
Amazon: https://www.amazon.com/dp/B01JO4PTX0#nav-subnav
Apple: https://itunes.apple.com/us/book/a-search-for-truth/id1139433917?ls=1&mt=11
B&N: http://www.barnesandnoble.com/w/a-search-for-truth-ernest-j-honigmann/1124223294?ean=2940156887408
eBooks2go: http://www.ebooks2go.com/shop/a-search-for-truth/
Google: https://play.google.com/store/books/details/Ernest_J_Honigmann_A_Search_For_Truth?id=59zHDAAAQBAJ
The book will be available as a paperback in 2017.
While A Search for Truth was being kept off the market because of the publishers' taboos, Honigmann wrote a second book, Buying and Selling a Small Business-An Entrepreneurial Strategy for Success (BSSB). Although the topics of his two books are a world apart, they are alike in their uncompromising truthfulness. One tells of deluded, wishful thinking; the other of wholesale burial of taxable revenues. That's why both had to be self-published.
To learn more about the author and BSSB, go to http://www.monnetpress.com.
Honigmann holds an engineering degree from Illinois Institute of Technology and a master of engineering administration degree from Sever Institute at Washington University in St. Louis.