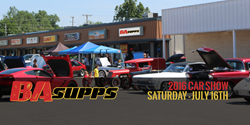 Food, Balloon Animals, Prizes & Raffles, and Admissions. What else could you ask for?
Broken Arrow, Oklahoma (PRWEB) July 12, 2016
BA Supps invites area residents and automobile enthusiasts to the BA Supps 2016 Car Show in Broken Arrow on Saturday, July 16. Register your car or truck for the show, or just come to observe and vote for your favorite car, and join us for a day of family fun at BA Supps from 8 a.m. to 2 p.m.
The show will feature dozens of new and old cars and trucks, as well as free food, balloon animals for the kids, prizes, raffles and more. BA Supps will also have in-store discounts all day long.
Everything is at no charge, so bring all your friends and family out to BA Supps to enter to win prizes and enjoy the cars. Last year's show featured everything from sleek Camaros and Corvettes to beautifully maintained vintage vehicles. Cars and trucks of any age, make and model are accepted. For more information about the 2016 BA Supps Car Show, or to register your vehicle, visit the event page.
About BA Supps: BA Supps is a wholesale supplement and nutrition retail store located in Broken Arrow, Okla. Locally owned and operated since 2008, BA Supps guarantees the lowest prices on vitamins, supplements and sports nutrition products. BA Supps was awarded the 2012 Best of Broken Arrow Award in the Nutrition and Supplements category by the Broken Arrow Award Program. BA Supps recently underwent a name change and store remodel to increase the amount of products it is able to offer to in-store customers.