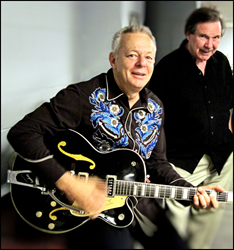 "This is truly my honor… I am one of the luckiest guys in the world to be able to even hold this instrument, never mind play it onstage at the Opry", says Emmanuel.
Nashville, Tennessee (PRWEB) July 11, 2016
It's been over 55 years since the world renowned early Chet Atkins Gretsch 6120 prototype guitar, aka "Dark Eyes" guitar has been played in public for an audience. This week, famed guitar virtuoso Tommy Emmanuel is bringing the iconic instrument back to its original home, The Grand Ole Opry on the evening of July 12, 2016… as well as The Country Music Hall of Fame event on July 16th, 2016 in Nashville, TN.
The 1956 Gretsch Sealed Top 6120 prototype made just for Chet Atkins was dubbed "Black Gold" in a 2013 Guitar Aficionado Magazine feature article, and has been hailed by Guitar Player Magazine as One of "Two of The Most Important Electric Guitars Of All Time"… both of those guitars belonging to Mr. Tom Doyle, most noted for being Les Paul's personal guitar builder, restorer, tech, soundman, and co-inventor for nearly half a century.
Tommy Emmanuel performing with Chet's legendary Gretsch 6120 Prototype for the Chet Atkins Tribute Show at The Grand Ole Opry is a particularly auspicious and historic event… the nostalgia and respect for this guitar and for Mr. Atkins is quite literally palpable.
"This is truly my honor… I am one of the luckiest guys in the world to be able to even hold this instrument, never mind play it onstage at the Opry," says Emmanuel. This is especially poignant because Emmanuel was one of Atkins' protégés, and credits a large part of his career and inspiration to his mentor, the inimitable Chet Atkins. Chet himself bestowed The Certified Guitar Player award to Tommy Emmanuel - an honor reserved for only 5 guitar players in the world. Emmanuel and Atkins became very close friends and even recorded an album together in 1997. The very iconic and historically significant guitar has not been played onstage in over 55 years… Chet himself famously played this Gretsch one of a kind prototype guitar at the Opry back in the mid to late 1950's when he most notably performed the Old Russian folk tune, "Dark Eyes", hence the guitar's moniker.
For a time Chet's "Dark Eyes" guitar hung in the Smithsonian Museum of American History, when it was famously part of the "Chinery Collection" and was featured in Scott Chinery's book, "The Chinery Collection: 150 Years of American Guitars". At one point this seminal Gretsch prototype was even owned by Bill Porter, the well-known audio engineer who helped shape the Nashville sound and recorded such stars as The Everly Brothers, Elvis Presley, Connie Francis, Roy Orbison, and of course, Chet Atkins from the late 1950s through the 1970s.
Joe Carducci, Senior Product Manager for Gretsch Guitars called this guitar, "Something special that needs to be shared with world… and in my mind as a guitar player, this is like the Holy Grail". Mr. Fred Gretsch, President of the Gretsch Guitar Company is quoted as saying, "We are glad that this historic one-off guitar has survived. It gives a glimpse into the innovative nature of Chet and his lifelong obsession for improving the electric guitar…"
The Country Music Hall of Fame has approached Mr. Doyle and his team about owning Chet's Original 6120 Gretsch Prototype for their Chet Atkins Collection Exhibit. Officials at the Nashville based museum understand this guitar's significance to Chet Atkins' legacy, the legacy of the Gretsch Guitar Company, and Atkins' early collaboration with Gretsch that spawned many future famous models of Chet Atkins guitars… as well as our shared American musical heritage. The curators at the museum are very excited about owning this instrument for posterity, and believe it would be the "Crown Jewel" in their exhibit. They are hoping to find benefactors to assist them in attaining the piece, and are actively seeking patrons.
Tom Doyle has been an admirer and friend of Chet Atkins for his whole life, and truly wishes that this pivotal instrument land in a place where it can be admired, revered, and appreciated for generations to come… and says, "I cannot think of a better place for this guitar than Nashville at The County Music Hall of Fame, it is where she belongs… and I know that it's what our friend Chet would have wanted."