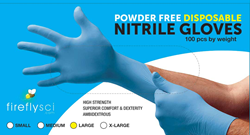 Brooklyn, NY (PRWEB) July 12, 2016
FireflySci Inc. is a fiery company based in the heart of Brooklyn NY. With over 50 years of experience with manufacturing and testing cuvettes, they have become one of the biggest authorities in the spectroscopy industry. Where FireflySci really shines is in their constant production of new products to make things easier and more streamlined for their customers.
In every lab the most important thing is to get accurate results and troubleshoot problems that come up. At FireflySci, troubleshooting cuvette issues occurs on a daily basis. Most common problems can easily be solved with the useful technical information that FFS has published on their website. Nevertheless, some experiments require special tools to make a researchers life easier. This is where the latest innovation from FFS comes in.
FireflySci has just released custom gloves for handling cuvettes. These gloves offer the best comfort and control when handling a cuvette. The research team at FFS has invested many resources in finding the best material and thickness for their cuvette gloves.
Cuvettes are extremely fragile and easy to drop, so FFS' Cuvette Gloves are made of a special nitrile material. Sometimes gloves may handling items too cumbersome but the FFS nitrile material offers a skin like feel when handling a cuvette. In addition, the Cuvette Gloves have textured fingertips which allows a superior grip on glass surfaces.
Many scientists who use cuvettes have to deal with dangerous chemicals that can seriously damage their skin. FFS' nitrile material provides excellent protection from chemicals that can accidentally spill or splash on a researchers hands. Nothing beats the peace of mind that a researcher has knowing that if an accident does occur that they are safe and have nothing to worry about.
Many cuvette based experiments that have issues with the results are because the cuvette is dirty. Now dirt can come from both the inside or outside of a cuvette. The pros at FFS say that most contamination comes from the outside of the cuvette because researchers use their bare hands when handling the cuvette leaving oils and other residue on the optical surfaces. This issue is easily resolved by using FFS Cuvette Gloves. An added benefit is that cuvettes that are handled with gloves require less cleaning and will last much longer than cuvettes that are handled with bare hands.
As with everything that FFS does, they have made these new gloves with pricing that any lab can easily afford. These Cuvette Gloves are a much needed upgrade for anyone who uses cuvettes or spectrophotometer calibration standards. The FireflySci team have already started taking orders for these new Cuvette Gloves and are supplying limited trials for qualified customers.
For more details visit http://www.fireflysci.com/cuvette-gloves