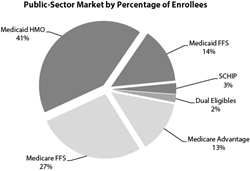 Washington, DC (PRWEB) July 12, 2016
Medicaid enrollment overall increased 10.5% from last year, and the proportion of eligibles covered by HMOs is up 2% to 69%, according to data in Atlantic Information Services, Inc.'s (AIS), recently released Directory of Health Plans: 2016. Some 123.7 million people obtain primary medical insurance via government entitlement programs, about 38% of the U.S. population. Overall Medicaid enrollment includes Medicare-Medicaid dual eligibles and related state programs such as the State Children's Health Insurance Program (SCHIP).
Managed Medicaid is the fastest growing public-sector market segment, AIS researchers found, with a 13.4% increase in enrollment since last year. The AIS database identifies approximately 6.1 million new Medicaid HMO members as of 2016 — about 5 million newly covered individuals and 1 million who have shifted from Medicaid fee-for-service (FFS) programs due to specific efforts in some states. Medicaid expansion efforts shifted some members from SCHIP as well as from FFS programs. Additionally, there are now 2.1 million individuals in plans specifically designed to manage Medicare-Medicaid dual-eligibles.
AIS's Directory of Health Plans shows there are 173 health plans offering Medicaid HMOs in 2016, down from last year's 180 due to industry consolidation. Plans that have gained the most Medicaid members are:

Molina Healthcare with 1.2 million new Medicaid lives,
Centene Corporation with 1 million new Medicaid lives,
Anthem, Inc., with 712,371 new Medicaid lives, and
AmeriHealth Caritas, with 577,488 more Medicaid lives than a year ago.
For more information on AIS's Directory of Health Plans, including a full table of contents and sample pages, visit https://aishealth.com/marketplace/aiss-directory-health-plans.
About AIS
Atlantic Information Services, Inc. (AIS) is a publishing and information company that has been serving the health care industry for nearly 30 years. It develops highly targeted news, data and strategic information for managers in hospitals and health systems, health insurance companies, medical group practices, purchasers of health insurance, pharmaceutical companies and other health care organizations. AIS products include print and electronic newsletters, databases, websites, looseleafs, strategic reports, directories, webinars, virtual conferences and training programs. Learn more at http://AISHealth.com.