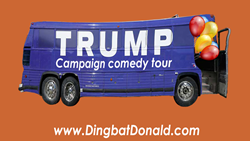 (PRWEB) July 13, 2016
A new satire website, full of comedy about Trump and his campaign, has just launched at http://www.dingbatdonald.com. "Dingbat" is the theme because some people say Donald is batty. Dingbats are nitwits, loony and laughable, and clearly not qualified to lead the nation.
Dingbatdonald.com features nationally-known cartoonists and writers. Site visitors will find Trump satire from the Onion, Slate, YouTube, and Cagle Cartoons, made available in one place that is unlike any other on the internet. The site also has original articles and cartoons, including "Swipes"—a series of, well, swipes at The Donald. All in all, it's a sweeping comedy tour of Trump's eccentric campaign.
Trump's supporters are said to be angry at Washington but it's hard to stay angry as a voter when you are laughing out loud. The website aims to make people chuckle a bit and think twice before voting for a dingbat. This approach to Trump mixes satire with seriousness, drawing on his own words and actions.
The creators of this non-commercial, public service website are not affiliated with any campaign or PAC. They are concerned Americans who want to do more than the usual canvassing and campaign donations this election season. Read more at http://www.dingbatdonald.com/about.