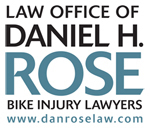 San Francisco, California (PRWEB) July 12, 2016
The Law Office of Daniel H. Rose is proud to once again sponsor the San Francisco Bicycle Coalition's (SFBC's) Golden Wheel Awards. This year's event, being held on July 13, 2016 at the San Francisco War Memorial & Performing Arts Center, honors a select number of distinguished individuals who have been making especially significant efforts to transform San Francisco into an even more bicycle-friendly city.
The SFBC will, at the event, specifically honor California Assemblyman Phil Ting and Walk San Francisco Executive Director Nicole Ferrara. Mr. Ting will be honored for his leadership locally and in the State Capitol to encourage biking, including his authorship of AB 40, which permanently banned tolls on people biking and walking across California's bridges including the Golden Gate Bridge. Ms. Ferrara will be honored for her work fighting to make Vision Zero a reality in San Francisco, and for her support for projects and public spaces that promote active transportation and benefit people who walk and bike. Speakers will also include special remarks by San Francisco Supervisors Jane Kim and Scott Wiener who have been strong supporters of better bicycling in San Francisco.
The San Francisco Bicycle Coalition has for more than 40 years been transforming San Francisco streets and neighborhoods into more livable and safe places by promoting the bicycle for everyday transportation. They are one of the largest and most effective bicycle advocacy groups in the country. The Golden Wheel Awards comes on the sobering heels of two San Francisco fatal bicycle v motorist collisions which occurred on the same day 6/22/16, killing bicyclists Heather Miller and Kate Slattery.
The Law Office of Daniel H. Rose is a San Francisco Bay Area injury lawyer firm specializing in the representation of bicycle accident victims, with more than 30 years of experience. Our firm supports several bicycling and pedestrian advocacy organizations and represents injured bicyclists, pedestrians and motorists throughout Northern California.