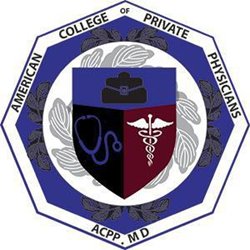 Signal Hill, California (PRWEB) July 13, 2016
The American College of Private Physicians (ACPP) today announced that their Second Annual Meeting will be held September 24 and 25, 2016 at The Vdara, Las Vegas, NV. Attendees will participate in a broad and highly beneficial educational program conducted by leading medical experts.
Last year's meeting was a major success as described by Gary Schaffel, MD, Founder and Owner of FORWARDFOCUSMED in Lake Forest, Illinois. "The meeting was engaging, informative, inspiring and couldn't have been in a more beautiful setting. Way to go!" This was echoed by Gary Price, M.D., Founder and President of PRIVATE PHYSICIANS OF SOUTHWEST FLORIDA, who exclaimed "I want to congratulate you heartily for a great conference!".
This year featured speakers will include Andrea Klemes, DO, FACE, Chief Medical Officer, MDVIP; Yijun Chen, MD, UCLA Medical Center Department of Surgery; Joseph Thakuria, MD, Medical Director, Veritas Genetics; Sudhir Gupta, MD, Ph.D, FRep (e), MAep, Immunodeficiency Diseases, UCI Medical Center (invited); Michael Tetreault, Editor-in-Chief, Concierge Medicine Today; and Marni Jameson, MA, Executive Director, Association of Independent Doctors.
In addition there will be important briefings on the current legal and regulatory environment for Direct Practice/Concierge practices, including an update on MACRA, designing and maintaining the best types of pension and benefit plans, best approaches to marketing and promoting your practices, and much more.
For registration and program information please see our website at http://www.acpp.md. Also membership in the ACPP is now open to all eligible physicians and doctors. A copy of the membership application can be found at http://www.acpp.md or by contacting the ACPP at (855) 332-5120.
Contact:
William Ross
Executive Director ACPP
http://ACPP.md
(855) 332-5120
Email: operations(at)acpp(dot)md