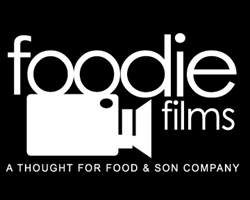 Marlborough (PRWEB) July 12, 2016
Thought For Food & Son, LLC, a leading creative boutique that specializes in the food industry announced today they have launched a new division; Foodie Films. Foodie Films will specialize in the production of social media recipe videos to give food companies the ability to educate consumers on how to use their products in a fun and visual way. Foodie Films social media recipe videos allow food companies to deliver a clear and precise brand message that is more memorable; delivered in a more meaningful way and can be seen by a much larger audience. The new company's production facility will be located in Lakewood, California. Foodie Films will target food brands in the following categories: dry foods, sauces, dairy, spices, meats, cheeses, seafood, fresh fruits, vegetables and beverage companies.
Foodie Films recipe videos can be used on food company's social media platforms, websites and for streaming at industry trade shows. Foodie Films will also be creating a Facebook page (foodie film recipes) to act as a social media portal page providing consumers with a dedicated resource to view and search recipes. Foodie Films Facebook page will also be an excellent way for food companies to increase consumer brand awareness and sales of their products.
Foodie Films sales office will operate from Thought For Food & Son's existing Marlborough, Massachusetts location. Nicholas Casucci, Chief Creative Officer of Foodie Films will manage and oversee all video production in their Lakewood, California studio.
"We have seen a shift toward visual content taking place across the food industry during the past couple of years," stated Alan A. Casucci, President & CEO of Thought For Food & Son. "We feel that Foodie Films is in a unique position to capitalize on this type of video content based upon our expertise and experience in the food industry."
Foodie Films has already been contracted by several food companies to produce recipe videos showcasing on how to use their products in multiple ways that can be used in creating everyday meals that consumers can prepare in the comfort of their own home.
Check out Foodie Films recipe demo reel at: https://www.facebook.com/ThoughtForFoodandSon/
About Thought For Food & Son, LLC
Founded in 2005, Thought For Food & Son, LLC is a leading creative boutique that specializes in the food industry. We offer our clients a combination of expertise and value that is unsurpassed within the food industry. We're a communications company without the traditional agency "BS." Thought For Food & Son operates as a "Strategic Resource" for its clients offering public relations, social media, packaging design, brand development and recipe video driven content through its Food Films division. Our focus is to create communication strategies using our proprietary PR FOOD MEDIA INDEX for clients who believe in powerful thinking. Thinking that demands notice. The kind of thinking that inspires people to take action and enables our clients to grow and prosper. For more information about Thought For Food & Son e-mail alan(at)tffandson(dot)com