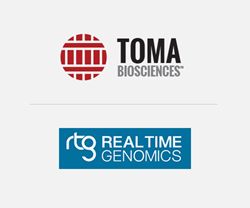 Our statistically rigorous approach allows us to accurately identify somatic mutations and segregate them from the germline variants using NGS data from tumor samples.
Foster City, CA (PRWEB) July 12, 2016
TOMA Biosciences and Real Time Genomics announce a partnership to develop novel analysis tools to process next-generation sequencing data from clinical tumor samples. Their goal is to improve somatic mutation identification to meet clinical regulatory requirements, so these tools can become an integral part of clinical testing.
Tumor profiling, using targeted next-generation sequencing of actionable cancer genes, is becoming the standard approach for selecting targeted therapies for refractory cancer patients. However, the software used by most laboratories to profile tumors originated in academic research projects, such as The Cancer Genome Atlas and the International Cancer Genome Consortium. These academic tools were designed for research protocols in which a sample of normal tissue is obtained and sequenced in parallel to the tumor sample, in order to help distinguish cancer somatic mutations from germline variants. This presents a major challenge for the clinic, where a normal sample is rarely collected from a patient during a tumor tissue biopsy or in plasma cell-free tumor DNA profiling. In addition, large-scale biobanks of archived tumor samples, which are being used for retrospective analysis of patient outcomes, largely lack matched normal tissue samples.
"Most clinical pathology laboratories only have access to tumor tissue," said Francisco M. De La Vega, Vice President of Bioinformatics and Distinguished Scientific Fellow at TOMA Biosciences. "We've worked with Real Time Genomics to develop a 'tumor-only' somatic mutation caller that is tuned to the TOMA OS-Seq™ tumor profiling technology. Our statistically rigorous approach allows us to accurately identify somatic mutations and segregate them from the germline variants using NGS data from tumor samples. We've validated this new analysis tool with simulated data and reference samples, and it significantly outperforms the publicly available academic tools and filtering schemes used by most labs. Critically, this software has been developed using a controlled development process, which is important to meet regulatory concerns."
The new algorithms developed for this software and the benchmarking results were presented by Dr. De La Vega on July 9 at the High-Throughput Sequencing Algorithms and Applications meeting, as part of the International Society for Computational Biology annual conference held in Orlando, Florida.
TOMA Biosciences is partnering with Real Time Genomics, a premier developer of commercial software for the analysis of next-generation sequencing data that is based in Hamilton, New Zealand. "We've already developed an extensive portfolio of genomic analysis tools and intellectual property for a wide range of applications," said Graham Gaylard, Founder and CEO of Real Time Genomics. "We are now happy to leverage our portfolio to help TOMA develop new clinical grade analysis software to more accurately profile cancer tumor samples. As true partners, we're discovering new ways to look at the data and new ways to more accurately analyze it, with the aim of eliminating the inconsistent results that currently plague the field."
For more information, please contact:
Victoria Lavi
TOMA Director of Marketing Operations
Email: victoria.lavi(at)tomabio(dot)com
Cellular: 650-281- 3501
Graham Gaylard
CEO Real Time Genomics
Email: graham(at)realtimegenomics(dot)com
TOMA Biosciences provides the most effective sequencing solution to identify clinically meaningful changes in the DNA of cancer tumors. TOMA has commercially launched TOMA OS-Seq™ reagent kits to help laboratories and researchers uncover genomic changes in tumors, including many missed by other methods. With an exclusive license to the oligo selective sequencing (OS-Seq) technology invented at Stanford University, TOMA has developed a fast, simple, and efficient way to comprehensively analyze all types of tumor samples – even those with limited volume and poor quality. A team of renowned industry specialists is leading the product development, commercialization, and regulatory pathways to bring these products to laboratories, hospital systems, and research institutions around the world. TOMA is a commercial stage, private venture-backed company headquartered in Foster City, California.
Real Time Genomics has a passion for genomics. The company offers high performance software tools and applications for the extraction of unique value from genomic data. Its competency lies in applying the combination of its patented core technology and deep computational expertise in algorithms to solve problems in next generation genomic analysis. Real Time Genomics Ltd is a private venture-backed company located in Hamilton, New Zealand with representatives in San Francisco.