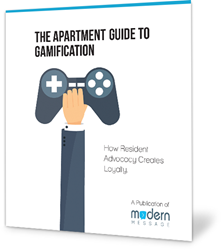 Dallas, TX (PRWEB) July 13, 2016
Modern Message, the creator of Community Rewards, today announced the release of a new white paper titled "The Apartment Guide To Gamification" that discusses how using a form of gameplay in apartment marketing can result in new leases.
Gamification is often defined as the application of typical game mechanics, such as leaderboards, levels, and high-scores to non-gaming scenarios. In the past three years, Modern Message has tested and implemented this technique specifically for the apartment industry and plans to share its discoveries in the company's latest white paper.
"On average, 70 percent of residents claim that they would be willing to share their apartment living experience on social media, however, less than 10 percent actually share" says John Hinckley, CEO at Modern Message. "A strategy that focuses on engaging the resident through gamification is opening up new opportunities for apartment management companies across North America."
The white paper also provides insight into:

how big brands have been successful using gamification;
how incorporating social media into gamification programs can increase online engagement, reveal resident advocates, improve onsite operations; and
how an apartment has the ability to build loyalty and enhance the apartment living experience for residents through positive reinforcement.
In addition, the paper highlights that by leveraging existing residents' networks, apartments can get more out of their marketing dollars in order to reach new prospects, while increasing the opportunity for renewals at the same time.
An example of this type of gamification can be found in Modern Message's resident loyalty reward program, Community Rewards, which encourages residents to complete tasks and earn points for engaging with the apartment community on and off line.
A downloadable copy of this white paper can be found on the Modern Message website at modernmsg.com/the-apartment-guide-to-gamification.
About Modern Message
Modern Message is the creator of "Community Rewards" – a resident advocacy program that helps identify property's resident advocates and encourages them to spread the word about their apartment community across their social networks. The program integrates multiple marketing efforts into one solution that rewards consumer engagement. Residents can earn reward points for sharing any combination of tasks online about their community including, creating and posting content on social media, taking online surveys, renewing their lease, generating referrals and following properties' social media pages to receive updates, all of which can be traded for various prizes. The company works with property management companies of all sizes across the United States in both multifamily and student housing. Modern Message was founded in 2012 and is based in Dallas, TX.