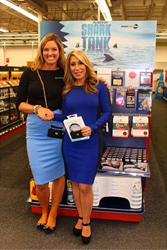 Atlanta, GA (PRWEB) July 11, 2016
pursecase designer, founder and Shark Tank Success Kelley Weaver will be hosting a special event benefiting the Lefont Film Society July 12th. Stop by to shop the new pursecase line plus get full access on Weavers recent experience on Beyond the Tank where she talked about the struggles and perks of being a female entrepreneur.
The Lefont Film Society strives to program a diverse slate of specially selected classic, independent and foreign language films for loyal movie going audiences. After spending recent time traveling foreign countries Weaver felt passionate about teaming up with the Lefont Film Society. Weaver and the pursecase team are so excited to donate to this organization that truly strives to preserve the art of film.
(Atlanta, GA) July 2016 – Doraku Sushi Tuesday, July 12th 2016 from 6PM to 9PM
pursecase is on Facebook, Twitter, and Instagram: @pursecase
Media Contacts: Jesse Lucas, Melrose PR, jesse(at)melrosepr(dot)com, (310) 260-7901