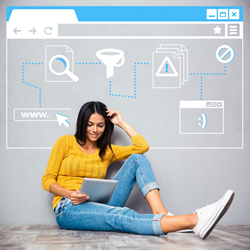 PageScan allows Securly to recognize an inappropriate site accessed from a school in the UK and use that intelligence to benefit a school in Texas
(PRWEB) July 13, 2016
Securly Inc. – the world's largest cloud-based provider of Internet Security for K-12 schools – has announced the launch of PageScan, a proprietary approach to building a "Blacklist that Learns".
To maintain blacklists, web filtering products often operate in two different ways and incur the following problems:
∙ Maintain a static list of websites that are updated periodically – this leaves the user vulnerable to new websites that may not be a part of a school's blacklist.
∙ HTTP response parsing to infer unknown bad content – this approach has severe performance limitations.
PageScan is a dynamic solution that remedies weaknesses of previous approaches. PageScan is able to accurately block new content and meet the strict performance constraints of modern K-12 networks. Securly accomplishes this using the following approach:
∙ The first time Securly comes across an unfamiliar site, they let it through.
∙ They then fetch it offline and scan the response content for keywords indicative of inappropriate content.
∙ The first pass is designed to produce False Positives. A second pass is then employed, done with an API call to third-party service Securly has identified as "best–of–breed."
∙ If the site is identified to be inappropriate for kids, Securly adds it to their blacklist.
With this approach, Securly can recognize an inappropriate site accessed from a school in the UK and use that intelligence to benefit a school in Texas. This new solution is able to identify – with high accuracy – sites belonging to the following categories: porn, drugs, gambling and network misuse. Securly reports that beta tests have shown an extremely low False Positive rate.
For more information, please contact sales(at)securly(dot)com.