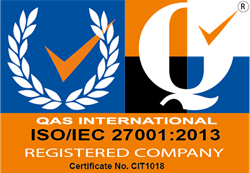 This reinforces Athena's demonstrated commitment to adhering to the highest standards of information security and privacy for our clients.
Waterloo, ON (PRWEB) July 12, 2016
Athena Software (http://www.athenasoftware.net) is now ISO 27001 certified.
The Waterloo, Ont. makers of the Penelope case management software system for health and social services organizations achieved ISO/IEC 27001:2013 certification on June 20, 2016. This means that Athena's business operations have been assessed and approved by certification firm QAS International to meet the ISO/IEC 27001:2013 standards and guidelines with respect to Athena's information security management system (ISMS).
ISO/IEC 27001:2013 is the global standard for Information Security Management including all legal, physical and technical controls involved in an organization's risk management framework. It is co-published by the International Organization for Standardization (ISO) and the International Electrotechnical Commission (IEC).
Athena's ISO/IEC 27001 Information Security Management System (ISMS) is comprised of a comprehensive set of policies and procedures and risk management and auditing frameworks based on best practices in maintaining the confidentiality, integrity and availability of information.
"Software providers like Athena that work in the human services sector require extremely high standards for privacy and security of information, including protected health and personally identifiable information," said David Reid, Athena Software's Director of I.T. "This third-party, independent certification reinforces Athena's demonstrated commitment to adhering to the highest standards of information security and privacy for our clients around the world, and in all of our operations company-wide."
Achieving certification for this standard was facilitated by the strong security framework already in place within Athena Software based on HIPAA requirements, relevant for Athena's large U.S. client base.
"ISO 27001 certification has become one of the core regulatory and contractual requirements for the human services sector not only within North America, but for our clients around the globe," said Athena Director Diane Stanley-Horn. "Formalizing and extending our practices to meet ISO 27001 requirements gives clients, suppliers and other stakeholders the confidence to trust Athena with the safekeeping of their information."
ABOUT ATHENA SOFTWARE
Athena Software is a client information software provider based in Waterloo, Ont., Canada. Since 2001, Athena's client base has grown to include hundreds of health and social service organizations in 15 countries on 5 continents across the globe. Athena estimates Penelope is used by close to 20,000 human services providers around the world each day.