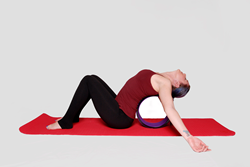 Yoga practice, not yoga perfect!
Tampa, FL (PRWEB) July 13, 2016
Seeing is believing, so when CleverYoga decided to introduce its latest product, the new yoga wheel, they knew that free, online videos were the best way to show customers — yoga practitioners as well as others interested in health and wellness -- how to use a yoga wheel at home or in a studio.
With the guidance of two experienced yoga teachers, Suzanne Aronoff and Danielle Fanelli (both 200-hour RYT), Clever Yoga is launching three videos that will help beginners, intermediate and advanced yoga practitioners to get the most out of the yoga wheel.
The yoga wheel videos are available on CleverYoga's website and YouTube channel. They are each about 10 minutes long and include sequences that range from gentle back stretches to advanced inversions, such as forearm balance.
The yoga wheel is a new prop in the yoga community and is gaining popularity. What makes CleverYoga's wheel stand out is its design, which comes in two sizes. The thick, dual padding, wider sides and durability makes this a stable yoga wheel as well as a comfortable one.
"Our CY team believes in motivating and educating our customers," says Ellie Teng, CleverYoga chief executive. "This means explaining why we're offering this new yoga wheel and how it can be incorporated easily into their practice -- even if they are brand new to yoga or fitness."
One of the chief goals of CleverYoga is to demonstrate how these fitness props are tools for growth. Videos are available for yoga straps, fitness balls, balance pads, hand grips, and now, the yoga wheel.
"When I was a beginner, I thought exercises props such as yoga blocks and straps were for newbies, or a sign of weakness," Teng says. "It's quite the opposite. These versatile tools help you feel a pose, or exercise, in a new way. They help develop confidence as well as strength and flexibility. We hope these yoga wheel videos will encourage people of all types to enjoy the new yoga prop."
About CleverYoga
CleverYoga is an innovative woman-owned and operated company, based in Tampa, Fla. CleverYoga aims to offer superior, reliable products that make a difference in customers' lives. The CleverYoga team uses meticulous market research and strict quality control and testing to create high-quality products.
Recently, the company has launched an online store using the largest online retailer, Amazon, as their platform. CleverYoga's online store can be found at Amazon.com.
Established in 2014, Clever Yoga's mission is to provide reliable, high quality yoga equipment, as well as excellent customer care.