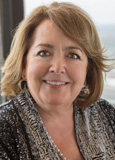 Mary truly exemplifies the Energetic Women Maverick.
Bloomington, Minn. (PRWEB) July 12, 2016
MEA's Energetic Women is proud to announce that Mary O'Toole, vice president, Primera, received the 2016 Energetic Women Maverick Award. The Maverick Award gives special recognition to leaders who have set the standard in promoting, connecting and strengthening female leaders in energy operations and engineering. The Maverick Award is presented annually to a man or women who actively participates in the advancement of women in leadership, who knows an organization is stronger with a diverse leadership team, who believes in the empowerment of women, who understands the importance of recognition and opportunities for women, who advocates for the professional advancement of women, and who acknowledges the full talents, capabilities, and organizational benefits of women in energy operations and engineering.
Mary is truly an Energetic Woman Maverick. Mary has personally and professionally advocated for women and diversity in the energy engineering and operations world. She understands the importance of promoting and strengthening potential leaders to create a successful, diverse team. Erin Inman, president/CEO for Primera, says, "Mary coaches and mentors everyone in her sphere, so gently and subtly that you don't even realize that you have been mentored until you have a chance to reflect…she provides mentoring and wisdom to all the women in her life…no matter what position they hold. Mary truly exemplifies the Energetic Women Maverick." Mary is charismatic and inclusive and continues to connect and educate the next generation of leaders.
Additionally, Mary has served an integral role on the Energetic Women Leadership Team by joining in 2007 and holding several roles including Chair in 2010/2011. Mary says, "I, along with others in Energetic Women, are taking our talents and helping other young women. You don't find a group like this very often in the industry. … [We] should pull up others along with [ourselves]." Mary and Energetic Women believe in inspiring others to lead by encouraging collaboration, and compassion.
For information about Energetic Women contact, Stacey Bonine at (651) 289-9600 x114 or staceyb(at)midwestenergy(dot)org.
About MEA:
MEA serves the people that delivery electricity and natural gas to homes and businesses. MEA (Midwest ENERGY Association) was founded as a trade association over 100 years ago by distribution utilities, whose vision was to improve safety and efficiency. Today, energy delivery companies and their contractors around the globe benefit from MEA's industry learning seminars, operations summits, and other events. Members collaborated to develop EnergyU, the world's premier online training, testing, and evaluation system for gas and electric distribution utilities.