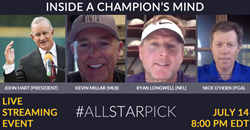 The parallels between elite sport and business are incredibly similar and the virtual environment is a great way to tell my story in a convenient and cost effective setting". All Star Pick Advisory Board Member and former PGA Tour golfer Nick O'Hern
Austin,TX (PRWEB) July 12, 2016
All Star Pick has launched a new product ASP Select , which is streamlining how Professional Athletes can connect with business and fans anywhere in the world. ASP Select is a turn-key influencer marketing and event management service helping businesses directly access professional athletes through a robust online communications platform.
All Star Pick has a full roster of talent available to clients and partners including professional athletes, coaches and broadcasters. All Star Pick enables you to stream your live or recorded event to any stage, conference room or device anywhere in the world with ease.
"With the recent trend of professional athletes retiring earlier in professional sports, athletes are looking for innovative ways leverage their brand outside of the game. The virtual services market is growing and projected to hit over $18.6B by 2018. We see a large opportunity in leveraging our athletes who have brand influence and stories to share directly to business and fans", said Satish Kodukula Co-Founder & Chief Operating Officer of All Star Pick.
All Star Pick is announcing its first live streaming broadcast on Thursday July 14th at 8:00 pm US EDT to showcase the effectiveness and ease of use of their services. The event, titled "Inside a Champion's Mind", features an All Star Panel which includes former NFL kicker Ryan Longwell, MLB World Series champion Kevin Millar and PGA Tour golfer Nick O'Hern, along with former General Manager of the Cleveland Indians and current President of the Atlanta Braves, John Hart. The premier event will be hosted by former West Virginia University Assistant Athletic Director turned radio broadcaster, Brad Howe.
"This 60-minute discussion showcases the type of talent and thought leadership available in an interview style format readily accessible to all companies, event planners and marketing teams everywhere at a much lower cost", said Jeremy Drzal, Co-Founder and Chief Information Officer.
-more-
For media inquires, partnerships or investor relations please contact Satish Kodukula at satish(at)allstarpick(dot)com or 512.797.9031.
About All Star Pick
Headquartered in Austin, Texas, All Star Pick is a full service media, marketing and technology agency specializing in connecting businesses of all sizes with individual athletes. Our programs help both businesses and athletes maximize the awareness and effectiveness of influence marketing of their respective brands.
Our athletes are current and former professionals looking to develop their personal and professional careers to make the biggest impact outside of professional sports. Each All Star can help your company sell, market and increase brand awareness through virtual broadcasts, events, sponsorships, corporate events, motivational speaking engagements, private bookings and creative entertainment outings for your team, clients and partners.
Our approach is different because we assist athletes in promoting their brand while helping businesses work directly with our talent. As a result, our price points are reasonable and our marketing influence is broader and more effective. We align your business goals and product positioning with individual athletes that fit your target demographic, location and audience lifestyle for maximum ROI.