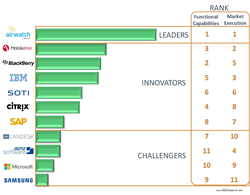 VDC's Temperature Check of the market shows that vendors are succeeding in evolving and augmenting the functional capabilities of their EMM suites—however; several prominent vendors are struggling with market execution.
Natick, MA (PRWEB) July 13, 2016
The global market for Enterprise Mobility Management (EMM) solutions is healthy and gaining momentum, reaching $2.45B by 2020 according to a new report from VDC Research (click here for more info). VDC's analysis showed that the top three vendors held more than 55% of the EMM market's revenues heading into 2016. Consolidation and strong market execution has produced a divided market; VMware jumped to 23.4% market share in 2015 (up from 16% in 2014), BlackBerry (counting Good Technology's revenue contribution) captured 21.4% market share in 2015, and MobileIron captured 10.5% market share in 2015. Each of these vendors is succeeding with land and expand strategies by moving customers into higher-tier packages and by upselling additional products and services from partners.
VDC developed its Temperature Check rating mechanism to provide a quick ecosystem assessment of the competing technology solutions providers in a specific market. The EMM Temperature Check reveals that the top 11 EMM vendors accounted for approximately 90% of the market's global revenues heading into 2016. Vendors' combined functional capabilities scores (based on 13 criteria) and their market execution scores (based on 8 criteria) produced the ranking (see chart).
"While the EMM market is healthy, participating vendors must recognize the technology shifts that are happening within their customer's IT infrastructure," said Eric Klein, Director of Enterprise Mobility and Connected Devices at VDC Research. VDC data showed that organizations are finally implementing best practices for mobile architecture, user experience, security policies, and standards; as they make progress across these fronts, they will quickly discover that this will require more advanced and integrated solutions from their technology partners. Added Klein, "Vendors are preparing for this shift; however certain vendors are better positioned to execute and lead; particularly vendors who are pursuing open standards and already have a large footprint in the enterprise."
About VDC Research
VDC Research is a leading technology market analyst firm covering the connected world. Founded in 1971, the firm provides market intelligence to the world's leading technology vendors, who rely on VDC analysts for winning market strategies and technology adoption decisions. With unmatched domain expertise and rigorous primary research methodologies, VDC enables clients to find new opportunities for growth and make critical decisions with confidence. Based on a unique blend of quantitative and qualitative analysis that offer granularity and breadth of coverage, VDC is organized around five practice areas, each with its own focused area of coverage. For more information, visit http://www.vdcresearch.com