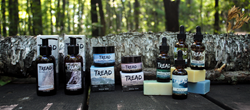 "Ultimately, our company is about helping all men respect and take care of themselves, not vain showmanship."
Chicago, IL (PRWEB) July 12, 2016
Young founders launch a boot-strapped startup around age defense and personal care for men who won't normally consider it a priority.
"It's about proper maintenance," says Bob Huguelet, Co-Founder at Tread. "For guys who work in a stressful environment, years will show if they don't take care of themselves. Wrinkles, dryness, and discoloration happen as a result not only of aging, but also lifestyle and upkeep. We came to find taking care of ourselves isn't just about 'looking good,' it's also a reasonable addition to regular grooming for men."
Tread plans to enter a market that is historically highly competitive, and they hope to attract new consumers that wouldn't normally purchase premium skin care products. They believe brand is the main driver. It centers on education, the science of aging, and health with a look and feel of men who are active and hardworking, and a dab of the Pacific Northwest.
Their first offering was a men's facial skin care lineup focused on age defense, but they quickly added beard oils, and handmade organic soap. Wet-shaving and traditional grooming products are coming soon. All products are made of organic and naturally derived ingredients, and made in the USA.
Tread also offers a subscription service for men who don't want to worry about reorders when they're out.
Asked whether they will incorporate women's products in their product line, Eric Verdeyen, the second Co-Founder of Tread said, "Technically, women can use our products just like men. We're just focusing on the male market for now, but let's just say, we bought the website name Tread for Women."
In addition to building the business, both co-founders are committed to growing relationships with local non-profits in Chicago that focus on professional development for young men in high school and college.
"It's important to help young men understand taking care of their appearance is important when they go to school and join the workforce," said Eric. "Ultimately, our company is about helping all men respect and take care of themselves, not vain showmanship."