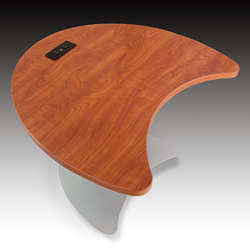 Inspiring interaction. Energizes the collaboration space.
Baltimore, Maryland (PRWEB) July 12, 2016
SMARTdesks announces today that the Quark mobile sit-stand laptop tables and Qstar5 conference table docking systems are ready to be manufactured to order, offering universities and corporate thought leaders more flexibility for collaborative learning and conferencing. Since the original Quark's introduction, the product had always gotten attention for its forward thinking design. There is still nothing else quite like it.
First perceived as a mobile laptop podium for a standard classroom, SMARTdesks worked with educators at the forefront of designing collaborative learning environments, and Quark began to catch on for entire classrooms, as well as the teachers. Colleges and universities started planning their spaces for Quark and Qstar5, giving feedback about how to make the product even better.
Quark2 is the result of that process: pointing up the important features that inspire interaction and energize the space. The first impression—just like the subatomic particles they are named for—Quark2 is full of energy and extremely mobile. Shaped like a swiftly moving shuttlecraft, the base echoes the design, riding on five lockable casters, giving the impression that the table is actually a hovercraft floating above the floor. The support column is height adjustable in twelve increments utilizing a ratchet adjustment. The top is lifted from seated 30.375" to standing 39.875" before resetting to its lowest position. The shuttle cockpit work surface is 35" across and 33" deep, with an optional Cove laptop port with 2 USB and one power outlet surface mounted. Plenty of work space and a wonderful shape.
Quark2 offers two great systems for docking: along the wall or in a conference table grouping of five with Qstar5. The Qstar5 docking system is a star where Quark2 units dock straight in to form a conference table. Mounted to a star-shaped hovercraft base, its ratchet height adjustment works the same way, so the dock can be set to any height desired for the group. A popular style is to have everyone but the presenter seated. The presenter stands at Quark2 in the raised position for use as a podium.
Quark2 Wall Docks bring order to the space, organizing groups of two as desired. Perfect for power distribution to each user along the wall, optically pleasing placement and spacing for the Quark2 workstations. The system arranges Quarks in a left or right direction relative to the wall. Designed in a system of three end styles that nest for finished installation. SMARTdesks design department will make this easy, providing a complete floor plan for review.
SMARTdesks designs and manufactures innovative, custom computer conference tables and computer classroom furniture. Each product is made to order, nuanced for the technology, purpose and interior design choices for the space. SMARTdesks is the patent holder for flipIT® products and is the sole source for flipIT and factory integrated flipIT furniture products. Serving universities, corporations, government and military clients world-wide, SMARTdesks furniture is made in the USA using Certified GREEN manufacturing methods. For more information, contact smartdesks through the web site— http://www.smartdesks.com