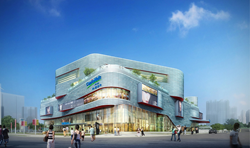 NEW YORK, NY (PRWEB) July 12, 2016
Laguarda.Low Architects, an internationally acclaimed architecture design and planning firm, has designed a new six-story retail center for CapitaLand located in Qingdao, China. Laguarda.Low, based in New York City, is well known their mastery of mixed-use and commercial projects throughout the world including OCT Happy Harbor in Shenzhen, a 3.2 million-square-foot shopping and entertainment destination overlooking Shenzhen Bay; El Centre Splau in Barcelona; and the Houston Pavilions in Houston, TX.
The project, known as CapitaMall Xinduxin, officially opened to the public on Tuesday, June 28th. The highly anticipated retail center is comprised of a 6 level above-ground retail center, 2 levels of below-ground retail, and 2 levels of underground parking. Laguarda.Low Architects is the design architect for both the exterior and interior of the new 1.7 million square foot project.
CapitaMall Xinduxin is the first international large-scale shopping center in Qingdao to cater to the city's growing population of young professionals and families. Located at the junction of Heilongjang Road and Heifei Road, with a direct link to Qingdao's new M3 subway line, CapitaMall Xinduxin is located in the heart of the city's New Urban Center and is easily accessible by public transportation.
CapitaMall Xinduxin's striking facade was designed to match the energy of people moving through the New Urban Center and create an iconic shopping destination. Laguarda.Low began by composing an exterior form of interconnected bands that pull and push along the plane of the façade according to the interior program and exterior setback requirements. The fluid form is accentuated by banded metal panel cladding on the upper levels, as well as dramatic red accent panels and inset LED signage. At the ground level, the curtain-like metal façade lifts away from a double-height, glazed façade to reveal the exciting activities within the mall's interior plaza.
The shopping center's interior spaces were designed to infuse the natural world into the shopping experience. Throughout each level, warm and light materials set the tone for a sophisticated and serene environment. The sinuous public corridors and expansive floor openings at each level encourage circulation throughout the mall and provide views to the upper levels. At the sixth level, a dramatic diagrid roof structure filters natural light from above. The varying apertures of the pattern work to maximize daylight for several keys spaces, while minimizing light for more intimate environments. The resulting variation in pattern evokes the feeling of walking beneath a canopy of trees.
At the fifth and sixth levels, a central, double-height atrium space is completed with lush plantings to create an indoor garden – immersing visitors in a green, sun-lit tranquil setting.
Pablo Laguarda, Principal of Laguarda.Low Architects comments: "The design focuses on creating a relaxing shopping experience for guests. To achieve this, we positioned key elements like the dining and entertainment spaces on the upper levels, adjacent to the interior garden. This provides a perfect respite from the high energy of the shops and street below."
In addition to a large selection of fashion and lifestyle retailers, CapitaMall Xinduxin includes a cinema, various dining options, and over 1,000 parking spaces.
##
About Laguarda.Low Architects
Laguarda.Low Architects is an award-winning architecture practice in New York City with a vast portfolio of built work throughout the world. Over the firm's 16 year history, Laguarda.Low Architects has completed numerous projects, including large-scale master plans, mixed-use developments, office and residential towers, hotels, and retail centers. With a close-knit, creative and international staff of over 50 design professionals, Laguarda.Low's work is driven by the desire to create vibrant and unique visitor experiences that enhance the client's overall vision for the project.
About CapitaLand
CapitaLand is one of Asia's largest real estate companies headquartered and listed in Singapore. CapitaLand leverage our significant asset base, design and development capabilities, active capital management strategies, and extensive market network and operational capabilities to develop high-quality real estate products and services. CapitaLand's diversified global real estate portfolio includes integrated developments, shopping malls, serviced residences, offices and homes. The company's two core markets are Singapore and China, while Indonesia, Malaysia and Vietnam have been identified as new growth markets. CapitaLand also has one of the largest real estate fund management businesses with assets located in Asia.