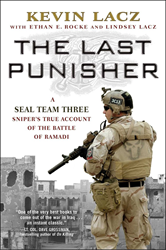 We were a just group of ordinary individuals asked to do extraordinary things during an exceptional time period.
Pensacola, Florida (PRWEB) July 12, 2016
Former Navy SEAL Kevin Lacz announced today that he will release a memoir of his experiences from the Iraq War on July 12, 2016. Published by Threshold Editions (Simon & Schuster), "The Last Punisher: A SEAL Team THREE Sniper's True Account of the Battle of Ramadi," documents Lacz's service on SEAL Team THREE unit known more commonly as "The Punishers."
The Punishers were instrumental in securing key positions in the pivotal 2006 Battle of Ramadi. Lacz recounts the battle in detail as he served alongside team members including Chris Kyle ("American Sniper"), Mike Monsoor, Ryan Job, and Marc Lee.
Although the team is often portrayed as legendary, Lacz insists that, like many legends, it's really just a story of ordinary men placed in extraordinary circumstances. His portrayal of Chris Kyle, for example, brings out Kyle's humanity as a fellow brother in arms and part of a team, rather than a larger-than-life warrior.
"We often get distracted by the superhuman portrayals of SEAL Team guys, forgetting that there are individuals behind the guns," said Lacz. " 'The Last Punisher' highlights how we are like everyone else – we are fathers, brothers, sons and husbands. Yes, we were a part of an elite team, but ultimately we were a just group of ordinary individuals asked to do extraordinary things during an exceptional time period."
Lacz first enlisted in the Navy following the terrorist acts of September 11, 2001, which claimed the life of his good friend's father. After enduring through the grueling SEAL training, he went on to serve two tours in Iraq.
Upon completing his enlistment, Lacz was honorably discharged. His presence in Chris Kyle's memoir, "American Sniper," later led him to serve as technical advisor on the Clint Eastwood-directed film of the same name, as well as playing himself in the role of "Dauber." He is now a physician assistant in Pensacola, FL, and professional speaker.
Lt. Col. Dave Grossman, bestselling author of "On Killing" and "On Combat," had this to say about "The Last Punisher":
"One of the very best books to come out of the war in Iraq. A natural sequel to 'American Sniper' and a powerful, rapid-fire look into the world of an operator. An instant classic that will be of enormous value to future warriors, scholars, and anyone who cares about our military and our veterans."
Members of the media interested in speaking with Lacz can contact Elizabeth Hilton at ehilton(at)crosswindpr(dot)com. For more information on Lacz or "The Last Punisher," please visit visit http://www.kevinlacz.com/
###
About Kevin Lacz:
Kevin Lacz is an author, professional speaker and former member of the United States SEAL Team THREE. His memoir "The Last Punisher" recounts his time in the SEALs, specifically his time in Ramadi during 2006 as a sniper, breacher and medic. He received a Bronze Star with Valor, two Navy and Marine Corps Commendation medals in addition to others for his service. Kevin served as a technical advisor and played himself in Clint Eastwood's Oscar-nominated film American Sniper. Far from being scarred by the conflict, Lacz has used his experience today as an inspiration to mend lives in the medical profession. As a physician assistant and co-owner of Regenesis, a lifestyle and performance medicine medical practice, Lacz specializes in treating patients in functional medicine, including wounded warriors and other special operations individuals. For more information, please visit http://www.kevinlacz.com/.