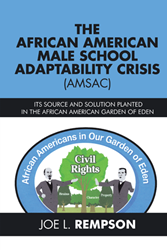 African Americans have a massive failure in school performance and solving that crisis is the key to strengthening the African-American family.
NEW YORK (PRWEB) July 14, 2016
According to the Congressional Black Caucus Foundation,12.7 million African-American males 18 and older account for only 5.5 percent of all college students.
How to advance career and education success to improve the lives of African-American males and their families is exactly what Joe L. Rempson aims to address in his book, "The African American Male School Adaptability Crisis." He has 51 years of experience in the field of education and is the former dean of students at Bronx Community College. Rempson believes that a lack of education opportunities for black males leads to a breakdown in African-American families for future generations.
Rempson said African-American males struggle in school because of a culture that blames society for their struggles instead of taking responsibility themselves. He believes this ideology has a direct correlation to the prevalence of fatherless families and crime.
"African-American males are responsible for the problems in black families," Rempson said. "They must assume the roles of family provider and protector to fix this problem."
To remedy the situation, Rempson aims to implement a new after school education program that focuses on exposing African-American males to role models and couselors dedicated to career success and family matters.
"African Americans have a massive failure in school performance and solving that crisis is the key to strengthening the African-American family," Rempson said. "Addressing this issue is the only way we are going to conquer the troubles involved with black families."
"The African American Male School Adaptability Crisis"
By Joe L. Rempson
ISBN: 978-1-5049-7676-3
Available in softcover, hardcover, e-book
Available on Amazon and Barnes & Noble
About the author
Joe L. Rempson is the former dean of students at Bronx Community College and has 51 years of experience in the field of education. He received his bachelor's degree from Buffalo State and earned his doctorate in education from Columbia University. Rempson resides in New York City.
# # #
**FOR IMMEDIATE RELEASE**
For review copies or interview requests, contact:
Brandon Kors
317.602.7137
bkors(at)bohlsengroup(dot)com