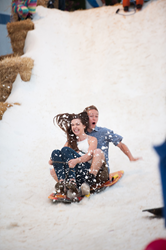 Montrose, CA (PRWEB) July 15, 2016
Montrose Travel celebrated their 60th anniversary this year by combining their Summer Awards party and their popular Snowpalooza event at the Montrose Travel-owned 2349 Honolulu Avenue parking lot on July 9, 2016.
The event was the perfect combination of elegance and down-home fun with over 300 employees, family members, clients, partners, local officials and dignitaries in attendance. Guests were greeted with music and a giant 40-foot banner spanning across two buildings that read, "Montrose Travel Celebrating 60 Years of Excellence!" Nestled between Montrose Travel's Corporate and Leisure buildings and encircled by beautifully decorated tables of blue and white, the immediate focus was the 12-foot mound of snow. An amazing 55 tons of snow was blown on stacked bales of hay to withstand the warmer weather. The smell of delicious food filled the air as children and adults alike swarmed the snow mound and tossed around beach balls. It was a truly unique event for a truly unique company. Only Montrose Travel could bring snow to Southern California in July.
Montrose Travel president, Joe McClure, took the stage to greet and thank all guests in attendance. During his speech, he named winners for top sales and achievement awards and gave a heartfelt toast to a wonderful 60 years.
In a time when Travel Agencies are folding left and right, Montrose Travel is proud to be celebrating 60 Years of Excellence and looks forward to many more to come.
ABOUT MONTROSE TRAVEL
Celebrating 60 years in business, Montrose Travel, a family-owned travel management company, has grown from 14 employees in 1990 to more than 230 today and is now firmly established as a Top 40 Travel Management Company and a Top 5 Host Agency nationwide at $300 million in sales. Montrose Travel strives to provide the highest quality services and most complete vacation, corporate, loyalty and group travel management solutions for its customers and home-based travel agents. Montrose Travel "will be here tomorrow to back up our promises of today!" Montrose Travel can be reached at 1-800-MONTROSE (666-8767) or by visiting http://www.montrosetravel.com. Visit Montrose Travel's Corporate Division at http://www.montrosecorporatetravel.com or call 1-800-766-4687. Home-based independent travel professionals may visit http://www.MTravel.com or call 1-800-870-5799. CST#1018299-10