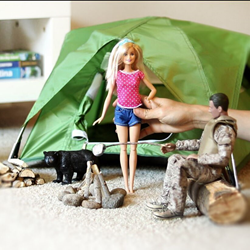 (PRWEB) July 12, 2016
A TINY Obsession
Former GoPro Senior Designer launches miniature tent company to feed desire of tiny tent enthusiasts everywhere.
Who doesn't love anything miniature? Former GoPro Senior Product Designer, Chris Clearman, has been fascinated by the miniature display tents you see on sporting good store shelves ever since he was a kid. These display tents were never available for purchase, until now. Based on his desire to own a miniature tent, Clearman is launching Tiny™ Tents this July through his kickstarter campaign. His mission - to equip the world with miniature tents. "There is something awesome about a tiny tent that I can't really put a finger on," says Clearman. Each tent will come equipped with real, functional zippers and windows. Just like the big guys.
"As a kid, running errands was hardly any fun, unless we were visiting the local sporting goods store. There, perched on the shelves of the camping section, were the miniaturized display tents of my childhood dreams. Time has had no effect on my fascination with these tiny tents," says Clearman. It turns out, miniature tent longing isn't an isolated obsession as Clearman began to run into other individuals equally obsessed with getting their hands on a tiny tent of their own.
There's a tiny tent lover in all of us. Ridiculously adorable, it's hard to resist these teeny tiny phenomenons.
Available in two sizes, small and large, Tiny™ Tents are great for indoor and outdoor camping excursions, desk displays, or model enthusiasts. Little ones will love to use them to play with their dolls and action figures while pets can snuggle up inside the larger version for a nap. For photographers, these miniature replicas make affordable props to capture realistic looking footage. Tiny™ Tents is also a unique way to add a little humor to your home décor and makes a great gift for the tiny obsessed in your life.
Join Tiny™ Tents for the launch of their Kickstarter on July 12, 2016. Help Tiny™ Tents reach their goal of $15,000 by donating today, the Kickstarter contribution starts at just $12, by visiting their page https://www.kickstarter.com/projects/499267624/1728731299?token=b4bcc110
Each Tiny™ Tent has:
· Two doors and two windows
· All zippers are fully functional
· Available in two colors: Light Forest and Blue Sky
· Designed and constructed like a full sized tent, but tiny
· Water resistant nylon with flame retardant coating
· Scale fiberglass poles and aluminum hardware at all corners
· MSRP will be 24.99 for the smaller tent and 34.99 for the larger tent.
About Tiny™ Tents
Tiny™ founder Chris Clearman received a bachelor's degree in Industrial Design (Product design) from North Carolina State University in 2010. After graduation he began work as a Product Designer for the parent company of several major powertool brands. After 2.5 successful years, Chris accepted a job as Sr. Product Designer at GoPro in San Mateo California. During his tenure at GoPro, Chris spent his nights moonlighting to start his own product brand called Matador. After designing and releasing a number of successful products for GoPro, Chris left the company in 2015 to pursue his startup full time. Matador has quickly grown into a successful sewn goods business serving major retailers throughout the world. Chris founded Tiny™ in 2016 because he always wanted a tiny tent but could never get one. After realizing how many other people were in the same situation, he jumped at the opportunity to use his skills and resources to bring Tiny™ tents (and happiness) to the masses.
https://www.youtube.com/watch?time_continue=9&v=Z85XxS1rbGU
For more information, please go to https://www.tinyoutdoors.com.
Best regards,
Mackenzie Sanderson
Account Coordinator
ChicExecs PR
ChicBlvd Inc. LLC
820 Los Vallecitos Blvd Ste A-C
San Marcos, CA 92069