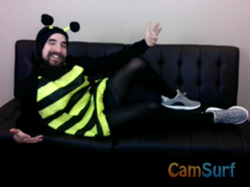 This video encapsulates what Camsurf is all about – having fun and bringing a smile to the face of strangers.
Los Angeles, CA (PRWEB) July 12, 2016
YouTube celebrity and master of the musical parody, Steve Kardynal, is quickly finding viral success again with a hilarious new parody video he recorded on video chat messaging service, Camsurf. The video, which Kardynal uploaded to both his Facebook and YouTube pages, parodies G-Eazy and his chart-topping hit Me, Myself & I and has been dubbed "Me, Myself & Others". It shows a split screen of Kardynal in a range of costumes and poses on one side and the reactions of Camsurf users as they watch him on the other side. The video has gained over a million views on both channels combined in less than 24 hours since it has been uploaded.
Kardynal has previously found viral success by parodying Miley Cyrus and her video for the hit song, Wrecking Ball. That particular video has clocked up over 150 million views and it seems like this newest parody video is set to reach similar figures with the number of views rapidly increasing by the minute. The combination of Kardynal engaging in a range of tender poses to the soundtrack of Me, Myself & I coupled with the stunned reactions of Camsurf users as they cringe, laugh, cry, and join in works perfectly to create a hilarious video that everyone can enjoy.
"We're delighted to see Steve Kardynal use Camsurf for one of his hilarious parody videos", said Camsurf Co-Founder, Allen Fox, "This video encapsulates what Camsurf is all about – having fun and bringing a smile to the face of strangers."
It has been a couple of years since Kardynal has released a chat site parody video and his fans are clearly delighted to see him back doing what he does best. The surging interest in the video has seen it gain more views in the first 24 hours than other viral hits this year such as viral sensation "Chewbacca Mom". Interestingly, the video has gained four times more views on Facebook than on Kardynal's traditional platform, YouTube, demonstrating a shift in the way people discover the latest viral videos. With such huge interest in this latest parody video only hours after it has been uploaded it is set to be his biggest stunt yet, with many of his fans already speculating that another parody video is in the pipeline, and Camsurf experiencing a huge surge in traffic since the videos release from people seeking to be featured in his next viral video.
About Camsurf
Camsurf is a free, family-friendly video chat messenger service where people can use their webcam to make new friends, find love, learn a new language, or discover a new culture online. Camsurf offers a lightweight and easy-to-use video chat platform, the ability to filter users by country, and a free mobile app for chatting on the go. By employing a team of moderators and enforcing rules against adult behavior and nudity, Camsurf offers its users a safe, family-friendly environment in which they can meet new people from around the world. Camsurf makes a stand against cyberbullying and harassment through its Safe Space campaign.