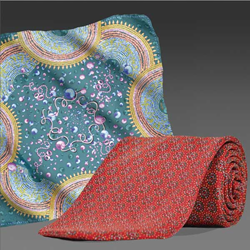 Win a Pineda Covalin handbag valued at more than $250.00 with the purchase of any item from the Jade Collection
New York, NY (PRWEB) July 12, 2016
Pineda Colavin is announcing the introduction of a new design collection called simply, The Jade Collection. The company, which recently launched its famed lined of Mexican luxury clothing and accessories in the U.S., is best known for its unique approach of mixing rich Mexican heritage-themed designs on luxurious fashions for an innovative approach to haute-couture.
The Jade Collection consists of four classic square fashion scarves and two slim ties incorporating the color and symbolism of the mystical Jade gemstone into their designs. They explain that although the word "Jade" originated in the Orient, the stone has special significance in pre-Hispanic cultures in Latin America. For those ancient cultures, the stone possessed mystical properties and spiritual meaning. Such was the significance of the stone, it was actually incorporated into the funeral regalia of the ruling classes of the time. As with all Pineda Covalin's designs, each of the items combine beauty and practicality while paying homage to traditional Mexican and Latin American designs and patterns.
The company offers a multitude of fashionable items in several historically significant Latin-American patterns with exotic-sounding names and a descriptive section explaining the origins and stories behind each of the designs. The materials are top-quality, and the items offered range from 70" long scarves to handbags, and other accessories along with tops, dresses, ponchos and more for women and ties, pocket squares, shirts and other menswear items. They even offer small novelty items such as pens, cigarette lighters, and iPhone cases, all in the same rich patterns available in their clothing. The Jade Collection fits nicely into their product mix and is elegantly presented in keeping with the company's overall product line presentation.
Their website is nicely designed with features such as a fashion show video and an instructional video showing innovative and interesting ways to wear their long scarves. The video tutorial is entertaining and rather than using words or written instructions, simply shows a model demonstrating each manifestation of the scarf. The accompanying soft, soothing music makes for a subtle and elegant video presentation.
In celebration of their new collection, the company is offering for a limited time, a chance to win a Pineda Covalin handbag valued at more than $250.00 with the purchase of any item from the Jade Collection. Simply order the item, click on the offer, and fill out a simple form to participate in the free giveaway. A contest winner will be announced on July 18th, 2016, so time is of the essence.
If you are unfamiliar with the Pineda Covalin online-boutique, you are invited to visit. The online-boutique shopping experience is a pleasant one, navigation through the site is easy, and the overall experience is a feast for the senses.