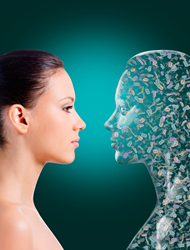 Exploring the relationship between our microbiome and individual behavior could provide a better understanding of the ways in which our gut bacteria may influence the brain.
San Francisco, CA (PRWEB) July 12, 2016
Microbial genomics leader uBiome is partnering with the University of Oxford to run a pioneering investigation into the possible connections between adult personality and their gut microbiome. Past research on this subject has focused on mice, and this is the first study of its kind on humans. The study is open to adult participants in the UK, the US, as well as other countries.
Full details of how to participate in this study are found here:
http://ubiome.com/pages/personality
The experiment is led by Oxford University DPhil student Katerina Johnson, who works with leading evolutionary psychologist Professor Robin Dunbar (perhaps best known for establishing "Dunbar's Number"—the cognitive limit to the number of individuals with whom any one person can maintain stable relationships) and respected neurobiologist Dr. Phil Burnet.
uBiome invites interested adult participants to receive a free gut microbiome testing kit, then to complete a detailed personality profile devised by the University of Oxford's lead researcher Katerina Johnson. Gathering data about participants' personality traits, such as how sociable or extraverted they are and their tendency to become stressed or anxious—while also examining the composition of their microbiomes—will enable scientists to look for possible correlations.
This research will build on past studies such as one involving two different strains of mice with contrasting temperaments (one anxious and timid, the other bold) which showed that when their gut microbiomes were swapped, the anxious strain became more bold and vice versa.
Such results suggest that gut microbes may contribute considerably to behavioral traits. Research has also demonstrated that manipulating the gut microbiome can reduce symptoms of stress, anxiety, and depression, as well as influence certain receptors in the brain and the activity of brain regions involved in emotional processing.
The microbiome is the collective name for the trillions of bacteria that live in and on our body, particularly in the gastrointestinal tract. Too much of the wrong kinds of bacteria can make us vulnerable to many chronic health conditions, and having the right kinds are crucial for staying healthy. For example, good gut bacteria help us digest certain types of food that the body cannot process by itself, and they also play an important part in synthesizing vitamins.
DPhil student Katerina Johnson notes: "The gut microbiota has been shown to affect the functioning of the central nervous system, as well as our general physical health. Exploring the relationship between our microbiome and individual behavior could provide a better understanding of the ways in which our gut bacteria may influence the brain. Such findings may inform the development of probiotic or prebiotic therapies to help improve mood and treat conditions such as anxiety and depression. Discovering new and effective interventions for such mental health issues is of pressing concern given the declines in psychological health of our modern society."
Jessica Richman, Co-founder and CEO of uBiome, adds: "Our collaboration with the University of Oxford is a welcome way for us to jointly explore a subject of such great significance. With major depressive disorder affecting one in twelve US adults in a given year, and depression being the leading cause of disability in this country among those aged 15 to 44, I believe it's incumbent on us all to explore every possible solution. This important study has great potential."
Those wishing to participate in the University of Oxford/uBiome study will find full details here:
http://ubiome.com/pages/personality
uBiome was launched in 2012 by scientists and technologists educated at Stanford and UCSF after a crowdfunding campaign raised over $350,000 from citizen scientists, around triple its initial goal. The company is now funded by Andreessen Horowitz, Y Combinator, and other leading investors.
uBiome's mission is to use big data to understand the human microbiome by giving users the power to learn about their bodies, perform experiments, and see how current research studies apply to them.
Contact:
Julie Taylor
julie(at)ubiome(dot)com
Ph: +1 (415) 212.9214