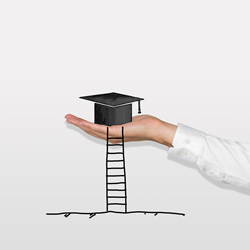 All over the world, companies tend to give their top positions to highly-qualified graduates.
London, England (PRWEB UK) 12 July 2016
London School of Marketing's latest blog post explores the age-old question of whether qualifications play a more important role than experience when it comes to climbing the career ladder. The post explains how experience alone is rarely enough to propel candidates to their dream job. It explores some of the benefits of qualifications, including demonstrating specialisms and industry expertise.
Chrishanthi Ranwaweera, the school's student supervisor, said: "All over the world, companies tend to give their top positions to highly-qualified graduates.
"Of course, experience is important, but candidates who have taken the time to study their chosen discipline in depth tend to offer a broader understanding of their chosen industry, which is extremely appealing to employers. They also have the advantage of having relevant, up-to-the -minute knowledge, which often makes them particularly suitable for senior roles."
The blog post goes on to look at the kinds of specialist skills which are developed during practical courses such as MBAs. Readers are invited to consider how they can make themselves more eligible for senior promotions by combining internationally recognised qualifications with good, relevant work experience and extra-curricular activities. The post also highlights the importance of networking – on and offline – while seeking a promotion.
The full blog post, including a more detailed look at how qualifications can increase candidates' chances of being considered for promotions, can be viewed here. The internationally recognised courses and qualifications offered by the school, including BAs and MBAs, can be viewed at http://www.londonschoolofmarketing.com/our-courses.
London School of Marketing delivers accredited marketing and business qualifications, and offers professional courses from recognised professional bodies such as CIM, EduQual and academic qualifications on Marketing, Business, Finance, Law and HRM from Anglia Ruskin University and The University of Northampton. Based in Central London, they are a QAA approved institution. The school also has offices in Sri Lanka, a network of Local Access Points (LAPs), and online programmes of learning.