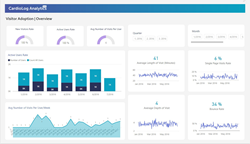 CardioLog Analytics takes the spot as the top player in the SharePoint analytics and reporting arena, with an all-encompassing solution for both On-Premises deployments and now SaaS on Power BI.
Boston, MA (PRWEB) July 13, 2016
Leading Web Analytics specialist Intlock has launched CardioLog Analytics SaaS, allowing organizations to optimize and measure their SharePoint and Office 365 portals while situated on the cloud. CardioLog SaaS offers around-the-clock reliability, high quality service and real time reporting capabilities. It includes automatic software updates, has storage space that can be easily scaled up or down, and offers an easy to implement installation. The solution is compatible with Office 365, SharePoint 2016, 2013 and Yammer.
CardioLog SaaS on Power BI offers Small to Medium Size Businesses, Governments, Enterprises and more a multitude of cloud-based advantages, placing convenience and ease of use at the forefront. CardioLog Analytics SaaS is running on Microsoft Azure's cutting edge technologies, and integrates seamlessly with Microsoft's powerful Data Visualization interface, Power BI.
CardioLog Saas automatically integrates with Power BI, allowing users to easily perform quick multi-dimension queries and on-demand slice and dice actions of their SharePoint or Office 365 data through intuitive reporting dashboards. Power BI's sophisticated visualizations of live and interactive CardioLog dashboards and reports, offers organizations the ability to gain powerful insights, while monitoring their SharePoint portal and overall business performance through the advanced scope of Power BI. CardioLog Analytics SaaS comes with a set of premade reports, specifically designed to measure the organizational goals, including SharePoint adoption, visitor engagement, collaboration, portal performance and usability, optimizing portal resources and supporting a portal migration process. With the intuitive Power BI interface, users can also easily create their own reports based on the data collected by CardioLog Analytics SaaS, allowing them to customize the reports to their own needs as well.
For more information about CardioLog Analytics SaaS, please contact here or email info(at)intlock(dot)com
About Intlock:
Intlock, developer of CardioLog Analytics, has been a leader in the field of analytics for SharePoint, Office 365 and Social Platforms for over 10 years. Their product - CardioLog Analytics - provides web-analytics and online marketing solutions for SMB and enterprise-level intranet portals and websites. CardioLog Analytics, delivers deep insights into the performance of portal, web and social platform initiatives through testing, tracking and targeting, ultimately enabling organizations to optimize their portal's impact and maximize their return on investment. The solution is available for both On-Premises and SaaS deployments.
Intlock is led by a team of experts in the fields of application development, knowledge management, web analytics, portal monitoring and control, and software engineering. Its products and solutions are installed in organizations from various industries, including financial services, government, telecommunication, entertainment services and others.
Intlock firmly believes that partner alliances are a beneficial way to help enhance the product as well as strengthen alliances within the SharePoint and Office 365 communities. By working together, cost effectiveness and ease of implementation are greatly improved. Partner alliances shorten implementation times and enable the adaptation of the products to any technological environment a customer may have. To partner with Intlock, please contact here.