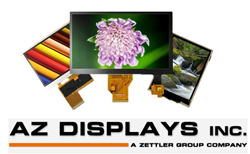 Aliso Viejo, CA (PRWEB) July 14, 2016
AZ Displays Inc., the North American Sales and Distribution arm of ZETTLER Group's LCD and TFT display division, today announced an aggressive price reduction for its range of popular color TFT displays. This measure will bring AZ Displays' TFT pricing for popular industrial sizes ranging from 3.5 to 7.0 inches to the lowest level the company has ever been able to offer.
Dave West, President of AZ Displays Inc. said: "Industrial engineers and designers not only seek superior quality in digital TFT panels, along with excellent customer support, but also request competitive sample and mass production prices. Today's price reduction underlines our commitment to support our partners in the engineering community, as we leverage the high production efficiencies of ZETTLER Group's Asian manufacturing facilities.
Many of our new low-volume prices announced today are 40% or more below the sample pricing offered by our competitors for equivalent products through North American distributors."
AZ Displays TFTs are available at these highly competitive prices via several distribution partners, and on AZ Displays' online store.
For more information visit http://www.azdisplays.com or contact AZ Displays Inc. at (949) 360-5830, e-mail: sales(at)azdisplays(dot)com.
AZ Displays Inc., a division of ZETTLER Group, manufactures and markets a broad line of digital TFT panels and LCD modules, and is an industry leading provider of top quality display solutions in a wide range of industry applications. AZ Displays is vertically integrated, with wholly owned engineering and manufacturing operations in Xiamen, China and sales, application engineering and distribution infrastructures in North America.