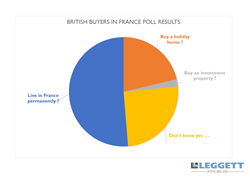 "Despite Brexit uncertainty, it seems that the British love affair with the relaxed French lifestyle, the culture and the beautiful affordable property remains as strong as ever" said Trevor Leggett, chairman of Leggett Immobilier.
United Kingdom (PRWEB UK) 26 July 2016
A poll conducted by Leggett Immobilier, the largest seller of French property to British purchasers, has shown that half of all British clients considering buying a property in France, are doing so to move to the country permanently.
The poll which was run following the result of the referendum has shown that British people are keener than ever to make a permanent move to France, despite uncertainty about how Brexit may affect British immigration to the country. A similar poll conducted by Rightmove overseas last year showed that only 38% of Brits were looking for a full time move, with more than half of British buyers looking to buy a holiday home. It's clear that of the 16m who ticked the "remain in the EU" box, a significant number are now literally voting with their feet!
Poll breakdown
50% of Brits polled said they intended to make a permanent move to France
20% of Brits polled said they intended to purchase a holiday home in France
2% of Brits polled said they intended to purchase an investment property in France
28% of Brits polled had not yet decided

Alongside this, figures released by the company last week show record breaking sales, despite Brexit uncertainty with a 21% rise in 'sales agreed' in the first half of the year.
**Source: Leggett Immobilier sales data
"It is interesting to see that many of our clients are wanting to purchase property in order to make a permanent move to France," said Trevor Leggett, chairman of Leggett Immobilier.
"Despite Brexit uncertainty, it seems that the British love affair with the relaxed French lifestyle, the wonderful culture and climate and the beautiful affordable property available here remains as strong as ever,"
Mark and Tracie Sharp who intend to move to France permanently say; "We both love France, the culture, the people, the food and especially the wine! With all the economic uncertainty in the UK, we found that we could get so much more for our money in France. We want to enjoy a slower pace of life, and life in France mortgage free. To mix with the local community, and be part of the French way of life."