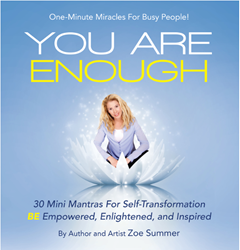 While I see value in every person, it is more important that they see the value in themselves first.
LOS ANGELES (PRWEB) July 12, 2016
Every person no matter their age, race, gender or any other classification has battled with low self-esteem at some time in their life. Low self-esteem can lead to the formation of bad habits, hurt relationships and self-sabotaging behaviors.
That is why author and artist Zoe Summer has created her new inspirational book, "You Are Enough." This uplifting guide aims to help readers learn to enact brief, daily routines as a self-realization tool that can help them rebuild a positive self-image.
In the book's foreword, award-winning singer, songwriter Tiamo De Vettori states, "I've learned firsthand that to achieve, you have to believe—especially in your darkest hours when you may be filled with doubt, fear, and insecurity. To reach that level of inspiration, trust and peace, it comes down to one thing: unconditional self-love."
Following this theory, "You Are Enough" brings readers on a journey through 30 mini mantras and flower mandalas Summer calls "one-minute miracles for busy people," providing an accelerated tool for empowerment.
Each day readers are meant to read the simple, yet powerful mini mantras saying out loud an "I Am…" statement. Mantras should be repeated until embraced helping readers to feel better about themselves and the world they occupy. Through contemplation of the flower mandalas, the reader can be drawn deeply into their spiritual center creating a stronger heart connection reinforcing the loving message of its partner mini mantra. The flower mandalas were created by Summer as part of a new art movement called mobile photography, which focuses on formal phone-based photography.
"I have been referred to as a feel great expert," said Summer. "And that's a title that I cherish because while I see value in every person, it is more important that they see the value in themselves first."
For more information, please visit http://www.zoesummer.com
"You Are Enough: 30 Mini Mantras for Self-Transformation. BE Empowered, Enlightened, and Inspired"
By: Zoe Summer
SC-ISBN: 978-1-5043-3776-2
SC-Retail price: $12.95
Available at barnesandnoble.com, amazon.com and Balboapress.com
About the author
Zoe Summer graduated from Parsons, the New School for Design in New York City and is a professional author and artist. Summer lives in California. Through her art, writing and public speaking she helps people rid themselves of suffering, fear, insecurities, anxiety, neediness, and stress in order to open the door to uplifting feelings of self-love, hope, optimism, joy and increased energy.
###
EDITORS: For review copies or interview requests, contact:
Spencer Hotz | 317.602.7137| shotz(at)bohlsengroup.com