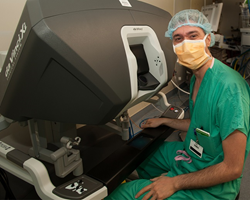 "This surgical option is a step forward in the ongoing effort to provide the latest and most advanced treatment to children in our care," said Dr. Fuad Alkhoury.
Miami, FL (PRWEB) July 12, 2016
Nicklaus Children's is among the first pediatric facilities in the region to offer robotic single-site incision surgery for children utilizing the da Vinci Xi® system. The technique offers a single incision minimally invasive surgical option for gallbladder and ovarian surgeries in children.
A fifteen-year-old girl was the first patient at Nicklaus Children's to undergo robotic single-site incision surgery in June of this year when she had to have her gallbladder removed by Dr. Fuad Alkhoury, pediatric surgeon on the medical staff at Nicklaus Children's Hospital. Utilizing the da Vinci Xi robot, the surgery was performed through a small incision hidden within the patient's navel to remove the organ.
Compared to conventional laparoscopic gallbladder surgery, the robot enhances a surgeon's ability to reach the targeted area and improves precision. The benefits for the patient can include less scarring, shorter recovery and less probability for infection.
"Robotic single-site incision is already opening the doors for better surgical options and techniques for the pediatric population." said Dr. Alkhoury.
For more information on the Department of Pediatric Surgery at Nicklaus Children's Hospital, please visit http://www.nicklauschildrens.org.
About Nicklaus Children's Hospital
Founded in 1950 by Variety Clubs International, Nicklaus Children's Hospital – part of Miami Children's Health System – is South Florida's only licensed specialty hospital exclusively for children, with more than 740 attending physicians and over 220 pediatric sub-specialists. The 289-bed hospital is renowned for excellence in all aspects of pediatric medicine with several specialty programs ranked among the best in the nation in 2008, 2009, 2010, 2011, 2012, 2013, 2014 and 2015-16, by U.S. News & World Report. The hospital is also home to the largest pediatric teaching program in the southeastern United States and has been designated an American Nurses Credentialing Center (ANCC) Magnet facility, the nursing profession's most prestigious institutional honor. For more information, please visit http://www.nicklauschildrens.org.