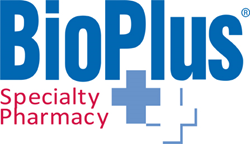 Altamonte Springs, FL (PRWEB) July 12, 2016
BioPlus Specialty Pharmacy (BioPlus), one of the nation's leading innovative specialty pharmacies, announces it is now dispensing Epclusa® (sofosbuvir/velpatasvir). Epclusa, a one-pill, once daily combination of Sovaldi® (sofosbuvir) with a new NS5A inhibitor called velpatasvir manufactured by Gilead, was approved by the U.S. Food and Drug Administration on June 28, 2016 after a priority review of its New Drug Application. It is approved to treat adult patients with hepatitis C, both with and without cirrhosis.
Epclusa's approval was supported by a series of four clinical trials demonstrating excellent safety and efficacy during 12-week treatment courses. Two of these studies indicated a 97-100% cure rate (measured by sustained virologic response) in patients with genotypes 1a, 1b, 2, 4, 5, or 6. Patients with the difficult-to-treat genotype 3 reached 95% sustained virologic response. Genotype 3 accounts for about 20% of hepatitis C cases in the U.S. Patients with cirrhosis or previous treatment failure were found to achieve sustained virologic responses of 89-91%. Few serious adverse effects were noted (16-19%), generally headache and fatigue.
"There are six genotypes of the hepatitis C virus. Prior hepatitis C medications generally only treated one or a few of these genotypes. One of the exciting things for prescribers and patients about Epclusa is that it's approved to treat all six genotypes," says Sharon Ferrer, VP of Pharmaceutical Relations at BioPlus. "In addition, the low cost (wholesale acquisition cost of $74,760) comes in at nearly 50% lower than previous treatments available for the difficult-to-treat genotype 3 of hepatitis C virus."
About BioPlus Specialty Pharmacy
BioPlus Specialty Pharmacy is the first specialty pharmacy to introduce a two-hour turnaround from referral to patient acceptance. BioPlus... Where healing begins in 2 hours. Our company celebrates 27 years of innovative excellence in specialty pharmacy, working closely with payers and the pharmaceutical industry, as well as with prescribers to get prompt treatment for patients, and directly supporting our patients nationwide to achieve optimal health outcomes. Our proprietary web tool Tap App connects prescribers to the pharmacy by bringing the pharmacy chart into the doctor's office with real-time specialty pharmacy information and treatment monitoring.
BioPlus provides a complete range of specialty services, including for hepatitis C, multiple sclerosis, cancer, bleeding disorders, and other complex, chronic conditions. BioPlus, a privately-held, pharmacist-owned company based in Altamonte Springs, Florida, is accredited by URAC, VIPPS, and the Accreditation Commission for Health Care (ACHC).
For information: http://www.bioplusrx.com or
Contact: info(at)bioplusrx(dot)com
Phone: 1-888-292-0744
###