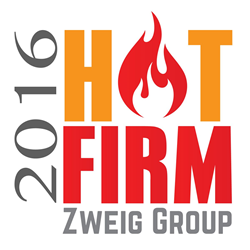 Richmond, VA (PRWEB) July 12, 2016
Zweig Group, a leading business consultant in the architecture, engineering and environmental consulting industry, has named Timmons Group a national "Hot Firm" in 2016. Selected among hundreds of companies across the United States and Canada, the ranking recognizes the 100 fastest-growing architecture, engineering, planning and environmental consulting firms that have outperformed the economy as leaders in their chosen field.
Led by President & CEO, Brian Bortell, the firm's successful growth in the past three years is a direct result of their focus on expanding service lines to clients, especially in branch office markets. "We have made strategic new hires in Hampton Roads, Raleigh and Northern Virginia, in addition to making several acquisitions," said Brian Bortell. "We have invested in new technologies that allows us to expand our engineering and technology offerings to better serve our clients, in addition to providing these services with a more efficient response time."
Zweig Group evaluated firms based on their three-year growth rate in gross revenue, with half of the ranking based on percentage growth and half based on dollar growth for the years 2012 and 2015.
Timmons Group was founded in downtown Richmond in 1953 as a surveying and engineering company. Since then, our client-centric, highly entrepreneurial culture expanded our technical capabilities, enabled geographic expansion into North Carolina and has provided us the opportunity to work on projects throughout the United States.
About Timmons Group
Timmons Group is a multi-disciplined engineering and technology firm recognized for nearly twenty years as one of Engineering News Record's (ENR) Top 500 Design Firms in the country. The firm provides economic development, civil engineering, environmental, GIS/geospatial technology, landscape architecture and surveying services to a diverse client base. For more information, visit http://www.timmons.com.