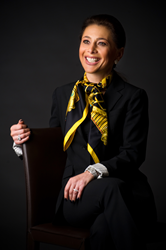 "We understand our clients' customers better than they do in many cases, and it's all because of Susan," said CMI/Compas' CEO Stan Woodland in the PM360 piece.
New York, NY (PRWEB) July 12, 2016
PM360 has named Dr. Susan Dorfman to the 2016 PM360 ELITE, a recognition of the most influential people in the healthcare industry—true catalysts who are creating extraordinary results. As Chief Commercial Officer, Dorfman sits on the executive board of CMI/Compas.
The PM360 piece recognized Dorfman specifically for her ability to make magic of complex data and engage audiences: "Susan revolutionized the way top pharma brands engage physicians with Own the Audience, an award-winning method of uncovering opportunities with low- and no-see HCPs. Solely through non-personal promotional efforts, Own the Audience has created an average uptick of more than 72% on scripts written. Susan also spearheaded Media Vitals, which the industry has come to rely on for critical insights on the promotional preferences of HCPs across specialties—allowing clients to engage HCPs how and when each HCP wants."
"We understand our clients' customers better than they do in many cases, and it's all because of Susan," said CMI/Compas' CEO Stan Woodland in the PM360 piece. "When Susan takes on a project for a client she gets so personal with their customers that she knows them by name, and when she shares the results of her analysis with clients she gives them goosebumps—she gives me goosebumps working with her at times. She's an incredibly amazing leader."
Dorfman has an immense amount of experience in promotional strategy development, omni-channel/multi-channel media and relationship marketing, customer insights, and media innovation built to reach, engage, and deliver a return on investment. At CMI/Compas, she is responsible for leading six groups: Customer Insights, Innovation, Technology, Customer Development, Customer Relationship Management, and Corporate Marketing. Additionally, she is a Doctor of Health Administration, co-author on the definitive guide to EHRs, and an industry speaker with strong connections to the healthcare and life sciences industries.
Susan is unstoppable in her quest to provide the most actionable strategies to our clients. She provides vision and leadership to both clients and her staff; she has a knack of concepting and nurturing innovative ideas that turn into viable products that make a real impact in the marketplace.
About CMI/Compas
Well-known as a media planning and buying organization for healthcare clients, sister agencies CMI Media, a WPP company (NASDAQ: WPPGY, http://www.wpp.com), and Compas, Inc. together form the indispensable strategic marketing partner to the world's game-changers in health, offering guidance at every level of marketing. CMI/Compas focuses on core service offerings of Audience Strategy and Non-Personal Promotion Strategy, Planning, Buying, and Customer Insights and performance management/precision analytics. With continuous investment in the things that really matter, CMI and Compas have achieved unsurpassed tenure of healthcare marketing talent, clients and suppliers. CMI/Compas has offices in Philadelphia, PA; King of Prussia, PA; Pennsauken, NJ; Parsippany, NJ; Chapel Hill, NC; and New York, NY. The family of companies is actively recruiting for healthcare marketing jobs via http://www.cmimedia.com/career.