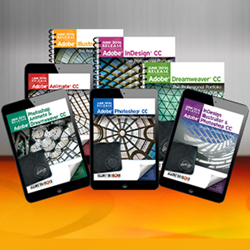 First to market - within a few weeks of Adobe's June 2016 release.
ST. PETERSBURG, FLORIDA (PRWEB) July 14, 2016
Today, Ellenn Behoriam, founder and publisher of Against The Clock Inc. (ATC) announced that ATC is once again leading the pack and is about to begin shipping its industry acclaimed Professional Portfolio Series of textbooks supporting the 2016 release of Adobe's Photoshop, Illustrator, InDesign, Dreamweaver and Animate software.
Behoriam commented, "Our project-based books are favored by educators in all fifty states. As rapidly as our industry and the software evolves, ATC remains at the forefront of the latest industry and software innovations, helping educators to prepare students for the workforce."
ATC books guide students through the proper use and application of Adobe's incredible design and production software. Students will learn the tools and techniques to master the software and to create their own career-focused projects to build their professional portfolios.
Perfect for classroom instruction and complete with instructor resources and everything required to prepare students for the workforce, Against The Clock's new books are available for purchase in both print and e-book format. Evaluation copies are available for professional educators at http://www.againsttheclock.com
"The agility of being an independent academic publisher that is uniquely focused on Adobe software titles, allows us to react swiftly so we can be ready with totally new courseware within a few weeks of Adobe's release, while our competitors may take many months," stated Behoriam.
Since 1987, Against The Clock has been providing project-based instructional books about Adobe's Creative Software. With a strong dedication to the educational market, Against The Clock has been working hand-in-hand with high schools, technical schools, colleges and corporate training organizations around the country to prepare graphics and web design students for the real world of digital publishing.
For more information, call 800-256-4282.