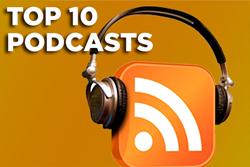 The top 10 podcasts and hundreds more are all available on the Council's iTunes page and also on the Council's website, where they are accompanied by full transcripts.
(PRWEB) July 14, 2016
Carnegie Council for Ethics in International Affairs announces its annual top 10 list of the most downloaded podcasts from the previous program year (July 2015–June 2016). Topics span the globe, and include Chinese immigrants in New York, India's Constitution, U.S-Russian relations, the future of technology, the teachings of Buddha, and the intricacies of global tax avoidance.
These podcasts and hundreds more are all available on the Council's iTunes page and also on the Council's website, where they are accompanied by full transcripts.
For links to the top 10, go to:https://www.carnegiecouncil.org/publications/picks/0056
1) Chinese Immigrant Experiences in New York City
Henry Chang, Novelist and Poet
Jiayang Fan, The New Yorker
Peter Kwong, Hunter College, Graduate Center of the City University of New York
Kavitha Rajagopalan, Carnegie Council
Manhattan's Chinatown is a city within a city; it's very poorly understood by outsiders. This panel of insiders helps change that.
2) The Indian Constitution
Sujata Gadkar-Wilcox, Quinnipiac University
Alex Woodson, Carnegie Council
Sujata Gadkar-Wilcox details the document's framework, its main architect B. R. Ambedkar, and why it is the world's longest constitution.
3) Global Tax Avoidance: Who's Responsible?
Elise J. Bean, Levin Center at Wayne State University Law School
Pamela Chisanga, ActionAid Zambia
John Christensen, Tax Justice Network International Secretariat
Harold Crooks, Journalist, Writer, and Documentary Film Director
Amber Kiwan, Carnegie Council
Julia Taylor Kennedy, Carnegie Council
Activists, documentarians, and economists give perspectives on how corporations avoid taxes and how this practice is now entrenched in business and government.
4) Beyond a New Cold War? International Security and the Need for U.S.-Russia Cooperation
Stephen F. Cohen, New York University, Princeton University
Jack F. Matlock, Former U.S. Ambassador to the Soviet Union
John Pepper, Former Chairman and CEO, The Procter & Gamble Company
William vanden Heuvel, The Franklin and Eleanor Roosevelt Institute
David C. Speedie, Carnegie Council
The U.S. must stop its demonization of President Putin, says this distinguished panel. Syria, Ukraine, the UN, nuclear weapons: all compelling reasons why the U.S. and Russia must work together.
5) Human Rights in China
Jeffrey N. Wasserstrom, University of California at Irvine, Journal of Asian Studies
Devin T. Stewart, Carnegie Council
Jeffrey Wasserstrom discusses the current state of Chinese media, politics, leadership, and human rights.
6) The Industries of the Future
Alec Ross, Johns Hopkins University
Joanne J. Myers, Carnegie Council
Driverless cars, designer babies, cyber warfare—what are the upsides and downsides of this brave new world? Ross expertly guides us through it.
7) Russia's Soft Power: A Matter for Church and State
Nadieszda Kizenko, State University of New York at Albany
Nikolas K. Gvosdev, U.S. Naval War College
Nicolai N. Petro, University of Rhode Island
David C. Speedie, Carnegie Council
If other countries wish to understand Russia, they need to have a grasp of her values, which provide the moral framework for her policies and world view.
8) Secular Ethics: Old/New Shakyamuni, Dalai Lama
Robert Thurman, Columbia University, Tibet House U.S.
Devin T. Stewart, Carnegie Council
Thurman riffs off the Dalai Lama's secular ethics project, explaining why it's important for all of us to learn to be more compassionate and other-directed.
9) Global Ethics Day: Feeding the Planet
Gerald Bourke, World Food Programme
Gilonne d'Origny, New Harvest
Jessica Fanzo, Berman Institute of Bioethics and Paul H. Nitze School of Advanced International Studies at Johns Hopkins University
Justine Lucas, Global Poverty Project
Devin T. Stewart, Carnegie Council
How can we feed the world ethically, sustainably, and well? This panel provides some answers, from food aid to producing milk and meat in cell cultures.
10) American Century, Asian Century, or Nobody's Century?
Joshua Eisenman, Lyndon Baines Johnson School of Public Affairs at University of Texas at Austin
Zachary Karabell, RiverTwice Research
Jiyoung Song, School of Social Sciences at Singapore Management University
Devin T. Stewart, Carnegie Council
Is the American century coming to a close, and if so, what's taking its place? Was there ever an American century to begin with?
ABOUT CARNEGIE COUNCIL
Founded by Andrew Carnegie in 1914, Carnegie Council for Ethics in International Affairs is an educational, nonprofit, nonpartisan organization that produces lectures, publications, and multimedia materials on the ethical challenges of living in a globalized world. Go to http://www.carnegiecouncil.org