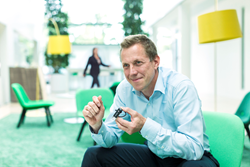 The headset is probably one of the most underestimated pieces of professional equipment of modern, mobile office environments
Old Lyme, Conn. (PRWEB) July 12, 2016
As Sennheiser continues the launch of its enhanced PRESENCE™ series of Bluetooth mobile headsets, its Director of Research and Development Jesper Kock explains how headsets have emerged as a key technical and personal interface in modern unified communications environments. Mr. Kock envisions the headset as an intelligent part of the IT ecosystem, including merging characteristics with wearable technologies, which could contribute to the "context aware" computing environments of the future.
Premium Audio as a Technical, Personal Interface
According to Kock, the category has migrated away from its status as a pure peripheral and transitioned to an intrinsic business communications tool, which can be leveraged to increase productivity and address issues in the workplace. In the professional office space, headsets have transcended the accessory category and have grown into complex pieces of IT equipment — which can actively transform the business of communication.
"The headset is probably one of the most underestimated pieces of professional equipment of modern, mobile office environments," said Kock. "With unified communications (UC) being a major ongoing trend in the industry, using headsets is simply no longer an option for businesses, but a necessity. They play an important role as a technical interface, ensuring a seamless interaction with the company's IT environment. Beyond this, they also act as a personal interface, for example, when communicating directly with a client." Both these elements are vital for the user experience.
Business Productivity for the Long Haul
Employees must often conduct a great percentage of their business through these devices, all day long. Audio quality and wearing comfort become a more serious priority in these situations, dramatically influencing both the user and the customer experience.
"Companies need to take headsets into account even in the early planning phases of their UC roll-outs, since it can impact the adoption and success of the entire UC deployment. Spending millions on a solution only to scrimp on headsets is akin to buying a high performance sportscar and then fitting it with budget tires," noted Kock.
The Headset as a Sophisticated IT Device
Headsets must comply with thousands of global standards to serve as this technical interface within a network's IT system. They must work alongside various softphones and be compatible with a range of mobile operating systems and devices: from iOS to Android, from USB to classic desk phones. Sennheiser maintains highly specialized teams dedicated to sound engineering, embedded software development, mechanical and hardware engineering, as well as system architecture, and more than half of the company's R&D engineers are dedicated to developing software.
As director of research and development, Kock has been witness to notable innovation in the past ten years alone. "Software has become paramount in quality communications," he says. "Development is focused not on creating an accessory, but in producing a complex IT device." High-end UC headsets such as the PRESENCE™ models are now powered by computer components that constantly work to maintain optimal sound and intelligibility, supporting and interacting with sophisticated IT infrastructures and sound environments.
For the devices to succeed as a personal interface in an office environment, users must feel as if they are in the same room as the person they are speaking to, transmitting the clearest and most natural sound possible. For an audio manufacturer, this requires as much focus on the headset's microphone technology as goes into the speaker technology.
Headsets as "Wearables"
Sennheiser sees a potential progression toward the headset as "wearable technology," since many employees physically wear their headsets through the entirety of their workday. "In the future, we might see that professional headsets measure physiological stats, such as heart rate, body temperature, respiratory rate, muscle tension and even brain waves," Mr. Kock surmises. "Using the data gathered, a big data environment could work to optimize the office environment and the individual experience of the user."
Location data from a headset could offer opportunities for the "context-aware" computing environments imagined for the future, wherein mobile systems sense their physical environments and accordingly adapt their behaviors. Headsets could leverage situational and environmental information, where the needs of users are automatically identified and addressed. Headsets could theoretically help an IT ecosystem support a more responsive environment, optimized for its employees' well-being.
"Whatever other capabilities our engineers pursue, the communications experience will still be the most important feature in headset design for the foreseeable future," Kock confirms. "Sennheiser is proud to drive the category toward a more intrinsic, productive and valued technological role in the greater scheme of the unified communications paradigm. We're excited to see where these technological trends will lead us."
About Sennheiser
Audio specialist Sennheiser is one of the world's leading manufacturers of headphones, microphones and wireless transmission systems. Based in Wedemark near Hanover, Germany, Sennheiser operates its own production facilities in Germany, Ireland and the USA and is active in more than 50 countries. With 19 sales subsidiaries and long-established trading partners, the company supplies innovative products and cutting-edge audio solutions that are optimally tailored to its customers' needs. Sennheiser is a family owned company that was founded in 1945 and which today has 2,750 employees around the world that share a passion for audio technology. Since 2013, Sennheiser has been managed by Daniel Sennheiser and Dr. Andreas Sennheiser, the third generation of the family to run the company. As part of the Sennheiser Group, the joint venture Sennheiser Communications A/S is specialized in wireless and wired headsets and speakerphones for contact centers, offices and Unified Communications environments as well as headsets for gaming and mobile devices. In 2015, the Sennheiser Group had sales totaling €682 million. http://www.sennheiser.com