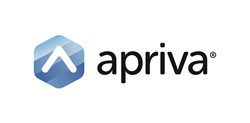 Scottsdale, Arizona (PRWEB) July 19, 2016
Apriva, the leading provider of secure end-to-end wireless transaction processing solutions, today announced that they will be sponsoring, exhibiting, and speaking at the 14th Annual MidWest Acquirers Association (MWAA) Conference, taking place July 26-28, 2016, in Cleveland, Ohio. Stacey Finley Tappin, the company's senior vice president of sales and marketing communications, will be speaking on a panel that will discuss today's challenges and what's ahead for mobile commerce.
The MWAA Conference is a two-day event full of educational and networking opportunities, dynamic speakers, and an exhibit hall featuring the latest in payments, products and services. The conference is a renowned forum where the latest information and developments in payments are discussed while networking with industry professionals including independent sales organizations (ISOs), managed service providers (MSPs) and financial institutions.
WHO: Apriva's Stacey Finley Tappin, senior vice president of sales and marketing communications, Angela Maxwell, director of account management, and Julia Decker, executive account manager, will be participating in the event, staffing the company booth #GS34, and answering any questions from booth visitors.
WHAT: Stacey Finley Tappin will share insight during a panel discussion titled "Mobile Commerce – Yes, There's An App for That," at the 14th Annual MWAA Conference. The panel will discuss the state of mobile payments today, the challenges it faces, and what is ahead for the industry.
WHEN: The 14th Annual MWAA Conference will take place from Tuesday, July 26 to Thursday, July 28, 2016. The session, "Mobile Commerce – Yes, There's An App for That" will be held on Thursday, July 28 from 1:00 – 2:00 p.m. ET.
Apriva's booth #GS34 will be open during exhibit hall hours:

Tuesday, July 26: 4:00 p.m. – 6:00 p.m.
Wednesday, July 27: 10:00 a.m. – 1:00 p.m.
Thursday, July 28: 9:00 a.m. – 1:00 p.m.
WHERE: Stacey Finley Tappin's panel session will be held in the Gold Room on the third floor of the Renaissance Cleveland Hotel at 24 Public Square, Cleveland Ohio. Apriva team members can be found staffing booth #GS34 during exhibit hall hours.
Media or analysts interested in one-on-one meetings with Stacey Finley Tappin at the 14th Annual MWAA Conference 2016 should contact Lisette Rauwendaal at (408) 727-0351 or Lisetter(at)mcgrathpower(dot)com.
About Apriva
Formed in 2003, Apriva is the leading provider of end-to-end transactions and secure information messaging solutions that meet the exacting security and reliability requirements of financial services providers, government entities, and public service sectors. Through its two operating groups, Apriva Point of Sale (POS) and Apriva Information Security Systems (ISS), the company offers customers fully-managed, end-to-end, security solutions that incorporate hardware, software, network infrastructure and management tools. For more information, visit http://www.apriva.com.
Apriva Contacts:
Robin Rotz
Apriva
(480) 421-1275
rrotz(at)apriva(dot)com
Lisette Rauwendaal
McGrath Power
(408) 200-3773
lisetter(at)mcgrathpower(dot)com