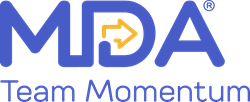 "With MDA Team Momentum, members train, endure and triumph together, all while raising important funds to help find treatments and cures and ensure access to services, care and support for individuals living with these diseases."
Dallas, TX (PRWEB) July 12, 2016
The Muscular Dystrophy Association's nationwide endurance program MDA Team Momentum is proud to partner with the 2016 BMW Dallas Marathon, Half Marathon and Behringer Relay on Dec. 11, 2016. This marks the 3rd year of MDA's participation in the BMW Dallas Marathon Charity Program, which has raised more than $100,000 to support MDA's mission to help kids and adults with muscular dystrophy, ALS and related life-threatening diseases live longer and grow stronger.
Through MDA, participants can secure guaranteed entry to the 46th running of the BMW Dallas Marathon by signing up at mdateammomentum.org/BMWDallasmarathon.
MDA anticipates bringing a team of more than 150 participants to this year's BMW Dallas Marathon and has hit the ground running with 61 registered team members before recruitment season opens.
Participants on MDA's team receive free entry into the race, personal coaching and customized training, and the ability to dedicate their miles and muscles to help free kids and adults from the harm of muscle-debilitating diseases that take away everyday freedoms like walking, running, hugging and even breathing.
"Many of our Team Momentum members participate not only to make a difference for MDA families living in hometowns across America, but also because they want to make a meaningful impact for someone close to them who is battling a life-threatening neuromuscular disease," said Abby Sidebottom, Team Momentum lead – Dallas/Ft. Worth. "With MDA Team Momentum, members train, endure and triumph together, all while raising important funds to help find treatments and cures and ensure access to services, care and support for individuals living with these diseases."
Established in 1971, the BMW Dallas Marathon attracts runners from across the world and hundreds of thousands of spectators to share in the excitement of Dallas' largest single day sporting event. The race provides runners and walkers multiple distance options including the BMW Dallas Marathon, a half marathon or the five-person Behringer Relay. Nonprofits accepted into the official BMW Dallas Marathon Charity Program partner with the race to raise funds, encourage participation and staff race day with volunteers.
"The support of MDA Team Momentum is critical to furthering our mission of promoting health and fitness in the local community and beyond," said Lisa Croley, chairman of the Dallas Marathon board of directors. "We are honored to have MDA represented at the BMW Dallas Marathon again this December, and look forward to working with their participants and volunteers to create a meaningful impact for such a worthy cause."
MDA Team Momentum provides a world-class customized half or full marathon training program to runners of skill levels and experience as well as a committed community of support from teammates, volunteers and mentors. With access to MDA's experienced coaches, members are able to defy personal limits while helping families with muscular dystrophy live unlimited. Members also receive invitations to exclusive social events, Team Momentum training and training gear, as well as race-weekend VIP amenities, including access to the Team Momentum tent, gear check and private changing areas.
Every dollar raised through Team Momentum helps fund lifesaving research and empowers kids and adults with resources that provide strength and independence, such as MDA Summer Camp, support groups for families and equipment assistance.
In addition to the BMW Dallas Marathon, Team Momentum has charity partnerships for 2016 world renowned events in Chicago, Denver and Washington D.C.
To join MDA Team Momentum, or to learn more, visit MDAteam.org and like MDA Team Momentum on Facebook (facebook.com/MDATeamMomentum).
About MDA
MDA is leading the fight to free individuals — and the families who love them — from the harm of muscular dystrophy, ALS and related muscle-debilitating diseases that take away physical strength, independence and life. We use our collective strength to help kids and adults live longer and grow stronger by finding research breakthroughs across diseases; caring for individuals from day one; and empowering families with services and support in hometowns across America.
Learn how you can fund cures, find care and champion the cause at mda.org.
About the Dallas Marathon
The Dallas Marathon is a nonprofit organization with a focus on promoting health and physical fitness through running events and related activities. Dating back to 1971, the organization hosts year-round events culminating with Dallas' largest and Texas' oldest running marathon: the BMW Dallas Marathon. Now in its 46th running, the marquee race attracts runners from across the globe and hundreds of thousands of spectators to Dallas' largest single-day sporting event. The BMW Dallas Marathon racecourse highlights iconic Dallas landmarks and is recognized as the official marathon of the city of Dallas. Since naming a primary beneficiary in 1997, the Dallas Marathon has donated more than $3.8 million to Texas Scottish Rite Hospital for Children. For more information, visit dallasmarathon.com.