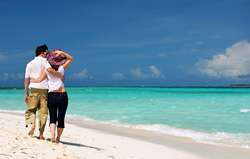 Despite all of the wellness benefits of taking a regular vacation, workplace guilt is clearly winning out.
WASHINGTON (PRWEB) July 12, 2016
Findings from the recently released 2016 Alamo Family Vacation Survey show that 59 percent of Millennials reported feeling a sense of shame for taking or planning a vacation, while 41 percent those 35 or older felt the same. Nearly half (47 percent) of all workers surveyed said they felt a sense of shame or guilt at their workplace for taking time off to go on a vacation. What's more, two-fifths (42 percent) of those think their co-workers are seriously shaming them – not just joking. And nearly half (47 percent) said they've felt the need to justify to their employer why they're using their vacation days.
"This year's research indicates that vacation shaming is a real workplace issue that can, in some cases, discourage hard-working Americans from taking well-deserved time off with their families," said Rob Connors, vice president of brand marketing for Alamo Rent A Car. "In addition, our survey shows employees continue to leave a large percentage of paid vacation days on the table."
Of those who reported having unused paid vacation days, two-fifths (40 percent) said they left five or more vacation days unused in 2015!
"Despite all of the wellness benefits of taking a regular vacation, workplace guilt is clearly winning out," said Howard Nusbaum, CEO and President of ARDA. "The statistics are disheartening with so many leaving their vacations on the table."
Recent research from Project: Time Off shows that an astounding fifty-five percent of Americans didn't use all of their time off in 2015 and sixty-five percent say that their company discourages, sends mixed messages, or says nothing about taking personal time off.
According to ARDA, there are several remedies for GVS. First, realize that vacations are a necessity and not a luxury. Second, commit to an annual vacation—a sure remedy for stronger ties with families and friends, less stress, and better health. And lastly, learn from those that don't suffer from this malady; timeshare owners have continued to make vacations a priority despite tough economic times.
"We have always believed in taking time to vacation. That is why we bought our timeshare more than 10 years ago," said Scott and Cassie T., guiltless vacationers. "With the stresses of today's world, it's even more important to take the family and get away from it all. We don't apologize for taking time out to relax and recharge, and we encourage others to do the same."
It's proven that one to two weeks away from the daily routine leads to better job performance and productivity, perhaps helping to make your job even more secure when you return to it.
For more information on recovering from GVS, please visit http://www.VacationBetter.org.
________________________________________________________________________
The American Resort Development Association (ARDA) is the Washington D.C.-based professional association representing the vacation ownership and resort development industries. Established in 1969, ARDA today has almost 1,000 members ranging from privately held firms to publicly traded companies and international corporations with expertise in shared ownership interests in leisure real estate. The membership also includes timeshare owner associations (HOAs), resort management companies, and owners through the ARDA Resort Owners Coalition (ARDA-ROC). For more information, visit http://www.arda.org or ARDA's consumer website at http://www.VacationBetter.org.