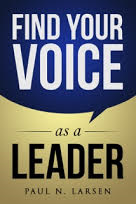 If you don't author your legacy, it will be authored for you.
Lambertville, MI (PRWEB) July 27, 2016
It's an age-old question—are leaders born or made? Research says, they're made. Only 10-15 percent are natural born leaders.
Paul N. Larsen, top executive coach and business consultant, agrees. That's why he's authored "Find Your VOICE as a Leader," a book poised to help leaders in all aspects of life find their voice and make a deliberate impact.
Released today, on the birthday of his inspirational late sister, the e-book is available at Amazon and http://www.paulnlarsen.com. The print version will be available this fall.
Larsen has worked with hundreds of leaders from all types of industries and organizations. While very different people, they all have one thing in common—they realize that they need to find their unique leadership voice.
"At senior levels, leaders have normally achieved a high level of success, but when I ask them what their legacy as a leader is, many of them answer with a blank face," explained Larsen. "If you don't author your legacy, it will be authored for you. This book helps you discover who you want to be as a leader, what kind of impact you want to have, and then how to do it. It guides you in the development of your leadership brand."
Through Larsen's common-sense V-O-I-C-E model, readers can follow five simple steps to uncover their leadership brand and put it into action. The model has been used successfully by leaders within organizations such as Twitter, SAP, and Walmart.
Finding a V-O-I-C-E as a leader involves:

Discovering core Values. Leaders need to ask themselves what's really important.
Creating a compelling vision to obtain the Outcomes leaders want. Is their vision congruent with their values?
Building relationships with Influence and credibility. How do leaders engage with people to achieve their outcomes?
Making decisions that reveal their Courage and confidence to take a stand. Where do leaders need to step outside their comfort zone to be the leader they want to be?
Communicating leaders' overall Expression for lasting impact. How can they express their leadership brand?
Advanced praise for "Find Your VOICE as a Leader" has been abundant:
"Executive coach Paul N. Larsen has a proven, simple and highly usable model for leaders to 'find their voice.' This book arrives at a time when leaders need to cut through the chaos and noise of today's global environment and use their 'voice' for positive influence and impact. Paul's new book demonstrates the easy steps to do just that." -- Debra Fine, Keynote Speaker, trainer, and bestselling author, "The Fine Art of Small Talk."
"In 'Find Your VOICE as a Leader,' Paul has drawn on his experience as a seasoned executive coach to provide a compelling formula for leaders to create a powerful brand and legacy!"-- Scott Friedman, CSP and former president of the National Speakers Association, speaker and author, "A Celebration a Day: 365 Ways to a Happier, Healthier Workplace."
"Paul's 'Find Your Voice' message is both practical and memorable. I encourage you to read his book. As you do, you will be delighted to find practical, useful tips for improving your performance regardless of your role in life." -- Bill Taylor, CMC, founder of SE Asia Foundation and COO and treasurer of Together We Can Change The World.
"Offering concrete steps and guidance to develop greater self-awareness, this book shows you what being authentic really means and how to work on being your best self. It equips you with the tools and skills necessary to be the catalyst of positive change your organization needs."
-- Susan Friedmann, CSP, international bestselling author of "Riches in Niches: How to Make it BIG in a small Market."
For more information about Find Your Voice as a Leader, published by Aviva Publishing, visit http://www.paulnlarsen.com.
"Find Your VOICE as a Leader"
By Paul Larsen
Aviva Publishing
July 27, 2016
$9.99 E-book, $24.99 hardback; 174 pages
ISBN hardback 978-1-943164-71-4
E-book ISBN 978-1-943164-51-6
About Paul N. Larsen:
Paul N. Larsen, MA, CPPC, is a Certified Professional Performance Coach and an experienced leadership consultant and speaker. He has over 30 years' business experience with executive and senior-level responsibilities within small and large companies, including being the Chief Human Resources Officer for a $3 billion organization. Paul partners with industry-wide leaders and teams from Fortune 100, start-up, and high-tech environments to find their unique leadership "VOICE" and create compelling and purposeful outcomes for their organizations. He has a proven track record with organizations such as SAP, Electronic Arts Twitter, and Walmart. Read more at http://www.paulnlarsen.com.