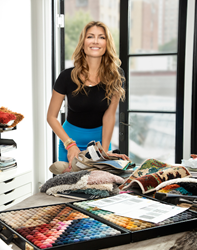 New York, New York (PRWEB) July 13, 2016
At Tempaper, they're transforming the way the world decorates with beautiful, self-adhesive wallpaper that can be easily applied and just as easily removed. Through their new partnership with Genevieve Gorder, they'll be introducing a whole range of fresh patterns for brightening every space.
Genevieve Gorder is one of America's most beloved interior designers. In addition to her television series on Netflix and HGTV, she designs for clients around the world including Land of Nod and Royal Caribbean, and is a regular contributor on The Rachael Ray Show.
"Her spirited personality on and off air is apparent in her aesthetic and strong design sense, making her an ideal creative partner," said Tempaper co-founder Jennifer Matthews. "Her fans and followers can now access her style and wallpaper patterns firsthand through her premier Tempaper collection. We are overjoyed to be working with Genevieve."
Tempaper has made a name for itself in the home decor market by offering a product that combines state of the art material while maintaining the traditional methods of printing wallpaper. It has become a go-to solution for homeowners, renters, and DIY'ers who want to add a touch of color, eye-catching tableaus and fun texture to walls, furniture, and other DIY projects.
"I'm truly delighted to be able to work with such a pioneer and design advocate for the home. As a designer, pattern is my first language," says Gorder. "Tempaper pushes the boundaries on how and where pattern can live. Together, we're creating new for everyone".
The new collection is currently under development, and is expected to unveil at the High Point Market this October.
About
Tempaper launched into the home decor scene in April 2008 as the brainchild of three NYC set decorators. With an eye for bringing creative spaces to life on the stage, Kate Szilagyi, Julia Biancella and Jennifer Matthews were always on the hunt for new ways to add interest and texture without sacrificing time and money. Tempaper was their solution, uniting style with a streamlined application for any project.