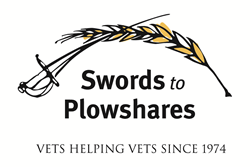 "One of the most challenging tasks for a veteran is to transition from the military to the civilian work force. We have to support our veterans by giving them every opportunity to succeed."
San Francisco, CA (PRWEB) July 13, 2016
The Walmart Foundation recently awarded Swords to Plowshares, a San Francisco-based veteran service agency, a $1.6 million dual-state grant to enhance and increase innovative employment and training programs in California and Texas. The grant will target areas in both states with the highest concentration of underserved veterans.
"One of the most challenging tasks for a veteran is to transition from the military to the civilian work force. We have to support our veterans by giving them every opportunity to succeed," said Michael Blecker, Executive Director of Swords to Plowshares. "This grant will help us reach, train and place more veterans in jobs throughout California and Texas."
Swords to Plowshares recently announced the 2016 California and Texas Veteran Employment Collaborative (VEC) grantees who have been selected through a rigorous and competitive process to be re-granted portions of the Walmart Foundation grant. Swords to Plowshares, along with the sub-grantees, will provide vocational training programs, job placement with local employers and pre-employment assistance for veterans throughout California and Texas. By working together with the sub-grantees, Swords to Plowshares will increase collaboration among veteran service providers and with other employers, and increase the efficiency of each organization's existing array of services for job-seeking veterans.
California Grantees

California Veterans Assistance Foundation
Easter Seals Southern California
Jewish Vocational Services, Los Angeles
New Directions for Veterans
NPower Inc., California
Team AMVETS Department of California
U.S. VETS, Southern California
Veteran Farmers of America
Vietnam Veterans of San Diego
Working Wardrobes for a New Start
Texas Grantees

Another Chance House
NPower Inc., Texas
U.S. VETS, Texas
Worklife Institute
"As a veteran, I know how critical it is for our men and women in uniform to have a strong support structure when transitioning back to civilian life," said Retired Brigadier General, Gary Profit, senior director of military programs for Walmart. "A job is an important part of that transition, and at Walmart, we're proud to use our strengths as one of the nation's largest employers to be a part of that bridge back home by providing meaningful opportunities for 130,828 veterans, and counting, to use their unique talent and skills. Veterans are among some of our strongest associates and we are pleased to see the growth and success they have achieved at Walmart."
About Swords to Plowshares
Founded in 1974, Swords to Plowshares is a community-based not-for-profit organization that provides critical needs assessments and case management, employment and training, housing and legal assistance to homeless and low-income veterans in the San Francisco Bay Area. Swords to Plowshares promotes and protects the rights of veterans through advocacy, public education, and partnerships with local, state and national entities. Learn more about the work of Swords to Plowshares, and ways in which you can help, by visiting our website at http://www.swords-to-plowshares.org.
About Philanthropy at Walmart
By using our strengths to help others, Walmart and the Walmart Foundation create opportunities for people to live better every day. We have stores in 28 countries, employing more than 2.2 million associates and doing business with thousands of suppliers who, in turn, employ millions of people. We are helping people live better by accelerating upward job mobility and economic development for the retail workforce; addressing hunger and making healthier, more sustainably-grown food a reality; and building strong communities where we operate and inspiring our associates to give back. Whether it is helping to lead the fight against hunger in the United States with $2 billion in cash and in-kind donations or supporting Women's Economic Empowerment through a series of grants totaling $10 million to the Women in Factories training program in Bangladesh, China, India and Central America, Walmart and the Walmart Foundation are not only working to tackle key social issues, we are also collaborating with others to inspire solutions for long-lasting systemic change. To learn more about Walmart's giving, visit http://www.foundation.walmart.com.
Media Contacts:
Samuel Neagu
Swords to Plowshares
Communications Associate
Office: 415-252-4787 x250
Email: samuel(dot)neagu(at)stp-sf(dot)org
Delia Garcia
Walmart
Director of Communications
Office: 602-819-9170
delia(dot)garcia(at)walmart(dot)com
Media Relations Hotline: 1-800-331-0085
news.walmart.com/reporter